Like an ISO image, a macOS Ventura VMDK file can also be used to run macOS Ventura on Virtualbox or VMware. The VMDK file is similar to the ISO file, but it comes pre-installed. In this guide, we will show you how to download macOS Ventura VMDK file for virtual machines (VirtualBox & VMware).
Apple has officially released macOS 13 Ventura, the operating system's next major release, which includes significant improvements. Some of the best features are highlighted below:
Stage Manager is one such feature that allows you to concentrate solely on the app you're using.
Rich Results in Spotlight, a new feature in macOS Ventura, lets you do actions right from the search results.
Safari has also received an upgrade from Apple. Friends and family will be able to view what other people are looking at in real time by using Tab Groups.
Also, more secure passwords have also been added by Apple, in the form of "Passkeys".
Messages sent recently can be edited or undone; unread messages can be marked, and accidentally deleted messages can be recovered with macOS Ventura's newest upgrade.
The Mac Mail program has also seen considerable improvements. You can undo a sent email a few seconds later in macOS Ventura, schedule emails, and make follow-up reminders all in one place.
There are countless more options available like these.
Note: It's advised to install Ventura on virtual machines first as it's currently in beta testing. For that, first, you'll need to download the macOS Ventura VMDK or ISO file. You can find the link to download the VMDK file below, but first, let's learn what VMDK is.
---
What is macOS Ventura VMDK and How to open it?
The .vmdk file extension is used by VMware and VirtualBox virtual machines to store virtual machine disks. The macOS Ventura VMDK file allows you to create a single virtual machine on a virtual disk. Then, the virtual machine can be used as an independent computer for testing specific software on different systems, like Windows, Linux, and Mac. It means that you can use macOS Venture virtual computer for various testing purposes on VirtualBox or VMware. VMDK files can be read and written by VirtualBox, QEMU, and Sun XVM.
So how do you open a macOS Ventura VMDK file? The VMDK file comprises two files: a descriptor and a flat file. The descriptor includes geometry, virtual hardware, ids, and other information, and it is a standard text file. In contrast, flat contains the actual data. If you have a VMware Workstation player, save the descriptor and flat file in the same folder first. Then, right-click the file and select one of the choices, such as Read-only or Read-Write. It will open and run the VMDK file without issue.
---
Download macOS Ventura VMDK File for VirtualBox and VMware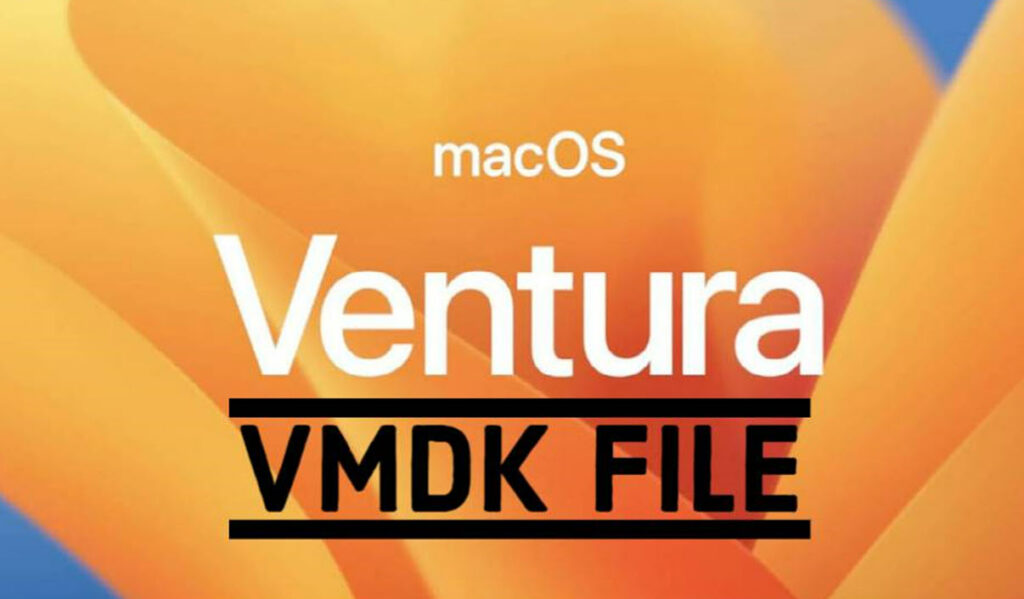 Anyone interested in Mac Virtualization, a subset of PC emulators, should have a copy of the macOS Ventura VMDK file on their computer. You can use macOS Ventura on your Mac or Windows PC as long as you have virtualization software installed, such as VirtualBox or VMware.
So if you want to install macOS 13 Ventura on your Mac or Windows PC using VirtualBox or VMware, you'll need the VMDK file. The macOS Ventura VMDK file can be downloaded from the link provided below:
=> Download macOS Ventura VMDK File for VirtualBox and VMware (By Techrechard)
Note: They are unstable because this is only a beta release. So, for the time being, I will not recommend using a VMDK file. Once a stable version is available, you can go for it.
---
Final Words
Virtual machines, which are other computer systems that are simulated within a host operating system, rely heavily on VMDK files. You can use virtual machine software to test macOS Ventura on your Windows, Mac, or Linux computer. Here, we showed you how to download macOS Ventura VMDK file for VMware or VirtualBox. After downloading it, you directly install it on a virtual machine and discover all of Apple's latest desktop OS update's fascinating features and hidden tricks. Finally, if you encounter any errors or have any questions, please leave them in the comments section below.
---
Read also: