Finally, at WWDC 2022, Apple introduced macOS Ventura. With a number of noteworthy features, macOS Ventura appears to be a modest improvement over Monterey. Now, whether you're a developer or an Apple enthusiast who likes to test macOS 13 Ventura, you have come to the right place. In this guide, we will show you how to download macOS Ventura DMG file for a clean installation.
Related: Download macOS Ventura ISO for VMware & VirtualBox
What is a macOS Ventura DMG file and how to open it?
A DMG file is an Apple Disk Image file, also known as a Mac OS X Disk Image file, which is a digital reconstruction of a physical disc. The macOS Ventura DMG file is used to store compressed software installers instead of a physical disc.
This macOS Ventura disk image format supports compression, file spanning, and encryption, so some DMG files might be password protected. The size of the DMG file is determined by the number of files it contains, however it can be as large as 4GB.
DMG files are meant for Macs, so opening them in Macs is simple. The DMG-format software that you download for your Mac can be opened like any other file on your Mac, and then the setup tool can be launched to install the software.
The macOS Ventura DMG files can be opened on a Windows PC also by any application that supports the format. You can not, however, run the software and use it like any other Windows application. Use the Windows version instead of the Mac DMG version to run the identical application on Windows.
---
Download macOS Ventura DMG File
A DMG file is required for a clean installation on your Hackintosh or Mac. The macOS Ventura installation is contained in a DMG file. You also need to download the macOS Ventura DMG file if you want to create a bootable USB for macOS Ventura on Windows.
=> Download macOS Ventura DMG File (MediaFire) | Credit: Techrechard.com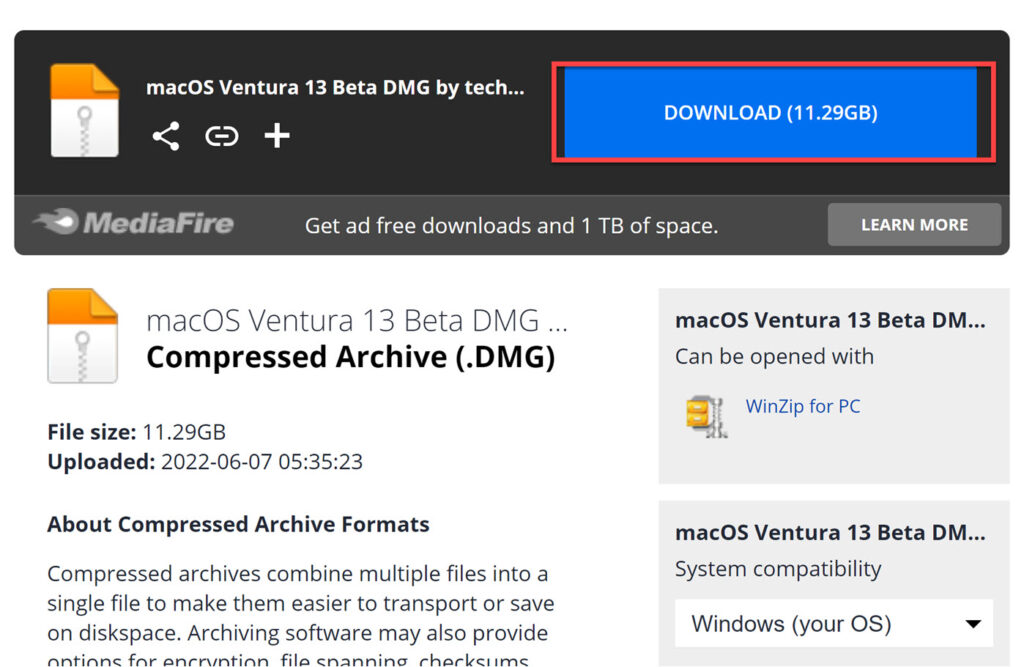 => Download macOS Ventura DMG File by TechRechard (Google Drive)
You must be patient for the download to complete because the dmg file is around 12 GB in size. It is strongly advised to use a file download manager to boost download speed and resume interrupted or disconnected downloads.
---
Final Words
After downloading the macOS Ventura DMG file, install it and discover all of Apple's latest desktop OS update's fascinating features and hidden tricks. macOS Ventura, which includes some noteworthy new add-ons, should be a lot of fun for you. Let us know in the comments below if you come across any new and interesting features that you think we should know about.
---
Read also: