Music is soul food for everyone! We all look forward to listening to music in our preferred genres. Hence, today, with the emergence of technology, there are multiple free music and video players for Android, among which Lark Player is currently one of the best due to its numerous easy features.
In this article, we have come up with all the details of the Lark Player and how you can use it to listen to your favorite songs offline.
About Lark Player
This music player for Android is available for official download and installation from the Google Play Store, where it can be accessed directly.
After the music player has been installed and launched for the first time, you will be prompted to permit it to access the media files stored on your mobile device. That takes care of the majority of the essential steps in the process, and you can get started using it immediately.
The user interface of Lark Player is uncomplicated and easy to understand, which not only makes it simple to use but also makes it run very smoothly. It has a streamlined interface that is both functional and elegant. This is in addition to the excellent sound quality that it offers.
The music you have saved on your Android phone can be organized into several categories. You can find your favorite songs by browsing the various tabs, which include artists, full albums, musical genres, and entire playlists.
Not to mention the enormous dropdown menu on the left side of your screen. Using this menu, you can easily navigate all the videos you have previously viewed.
You will have complete control over the app's management and settings, allowing you to tailor it precisely to your requirements. Remember that it can also sync lyrics or create several different playlists.
There are a variety of one-of-a-kind options available for your audio files, all of which can be accessed directly from the Settings menu.
You can select the type of subtitle coding, turn on or off accelerated graphics to switch directories, and play tracks to locate songs and videos for activating and deactivate hardware acceleration for playing tracks.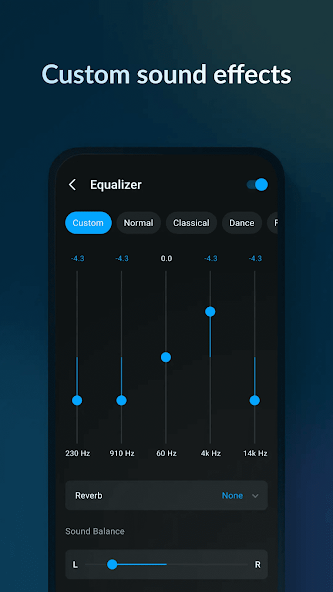 In addition, the floating video and music player feature makes it simple to switch between multiple tasks at once. You have complete control over the dimensions and placement of the Lark Player's floating window when you have it.
How do you go about utilizing the Lark Player?
Lark Player is a free music app that can be used offline and is incredibly easy to use. Using this app will make your experience with your smartphone much more enjoyable.
Download and install the Lark Player application for offline songs.
The easiest way to obtain the best app for listening to music offline is to go to the Play Store, search for "Lark Player," and then download and install it on your mobile device.
Step 2: Import your music into the lark player
After downloading and installing the best app for offline songs, launch it and let the music player access the pieces stored locally.
Step 3: Edit MP3 tags such as the title, artist's name, and genre
Through the device's music player, you can now play any song that has been saved to your device. You can change the tags by adding or editing the titles of the songs, the artist names, and the genres.
Step 4: Create your playlist
In addition, you can use the application to synchronize lyrics and create multiple playlists at the same time.
Step 5: Play music with lyrics
You are now able to play music while the lyrics are displayed. If you look at the lyrics, you can sing along with the music.
Conclusion
Lark Player is an excellent option for a music player, mainly due to its performance efficiency, user-friendly interface, extensive tools, and extensive personalization options. Because it is possible to have its video and music players float in the air, using it while simultaneously engaging in online activities is even more convenient. You can quickly and easily show your loved ones the music you enjoy by tapping a few buttons on your device.
---
Read also: