I bet you use Low Power Mode if you are an iPhone or iPad user. After this, you can use it on your Mac running macOS 12 Monterey as well. In this article, you will learn how to turn on and off Low Power Mode on macOS Monterey. By enabling Low Power Mode (LPM), you can extend your battery duration for longer period on your rechargeable Apple Laptop.
New Update in macOS 12 Monterey: Low Power Mode on Mac & MacBook
Apple tries to cover and discuss important features, but this does not mean that Apple introduces the latest updates in new settings and programs. Some settings are quick to see after the update is released to users. Apple enthusiasts like you and me will find out and share them with everyone. One of them is Low Power Mode. IOS devices already have Low Power Mode, but it was missing on iPadOS and macOS, but this time we also have Low Power Mode on iPad and Mac.
Low power mode tends to reduce battery usage by disabling unnecessary background activities, reducing screen brightness, turning off visual effects, and any other way to save device battery life. However, when the device's battery level drops to 20%, the system will send you a message asking you to activate low power mode. Now officially released, with macOS Monterey, you can use Low Power Mode on your MacBook at any time to save battery life until you reach the plug point.
Steps to Enable Low Power Mode On Mac (MacBook Pro, MacBook Air, and iMac)
To enable Low Power Mode on MacBook Pro, MacBook Air, and iMac, they should be running the latest macOS Monterey or newer software version.
Unfortunately, there is currently no shortcut or direct option to quickly enable Low Power Mode on macOS Monterey. However, we hope that Apple will definitely add it in the future.
To turn on Low Power Mode, Click on the Apple icon.
Next, tap on System Preferences.
Find and tap on Battery.
Now again, tap on the Battery option in the sidebar
Finally, check the box of Low power mode to enable it.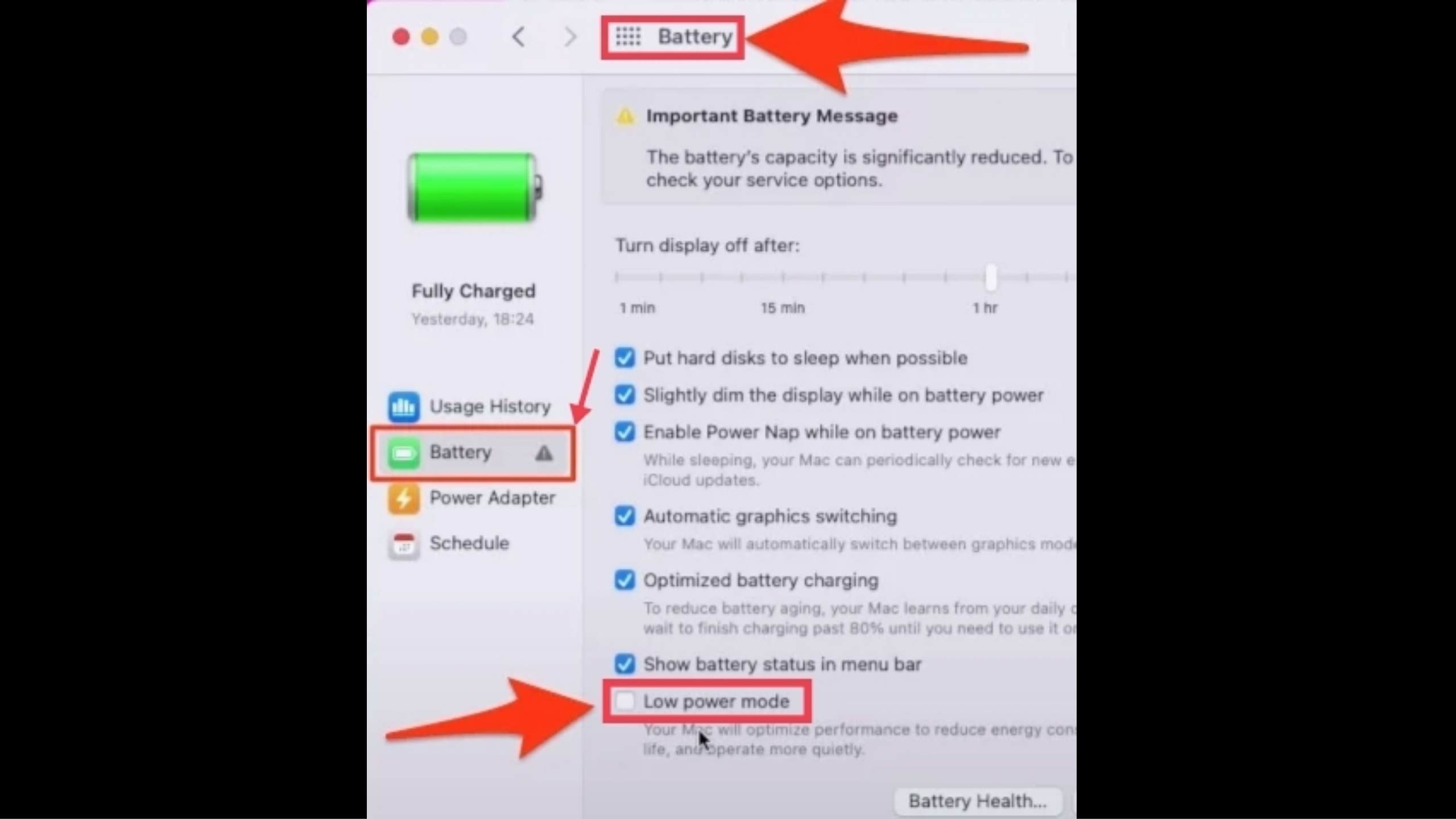 In addition, for macOS Monterey users, you can choose to enable Low Power Mode when your MacBook is unplugged or plugged in; it can be configured from the power adapter section, just below the battery in the same window.
Steps to Disable Low Power Mode On Mac on macOS Monterey
To turn off Low Power Mode, go to the System Preferences from the Apple icon.
Next, Tap on Battery.
Again, Choose Battery in the sidebar.
Finally, simply Uncheck the Low Power Mode option.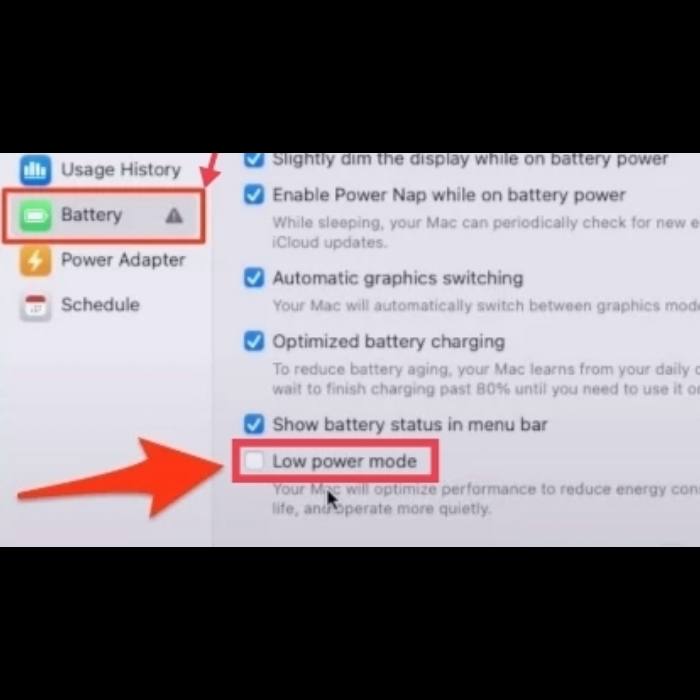 Extra Tip: you can check Battery Health and Conditions in terms of percentage on Mac just like iPhone and iPad. To check or monitor your battery health on mac, under the Battery Health Option, tap on Apple logo > System Preferences > Battery > Battery From sidebar > See Option Battery Health in last.
Note: you can also reset all the values using the Restore Defaults option under Mac Battery Settings.
Final Words
Now, all Apple devices have power up with low power mode, which helps in consume battery before die and user can stay longer while on work. And you can Turn on and off Low Power Mode on macOS Monterey by following the above steps. Good Luck!
---
Read also: