Are you a music lover? Do you always listen to songs? What about listening to the same song with your loved one? Because if you want, then this article is for you. Here, I will show you how to listen to music together on iOS 15 using SharePlay on FaceTime. You can listen to the same song with your friend if you have an iPhone and your iPhone is running on iOS 15.
Note: you can use sharing screen feature on iPhone via FaceTime only on iOS 15 beta 2 or later.
What is New in SharePlay Function on iOS 15
At WWDC21, Apple introduced the new SharePlay function, which left a deep impression on everyone. This built-in FaceTime feature allows users to sit in another corner of the world and meet by sharing screens, listening to music, watching movies, and more.
Here's everything new with SharePlay:
Watch together: Bring movies and TV shows into your FaceTime calls, and enjoy rich real-time connections with your friends while watching the same content.
Listen together: Share and listen to music with your friends right in your FaceTime calls.
Synced playback: Pause, rewind, fast-forward, or jump to a different scene — everyone's playback remains in perfect sync.
Smart volume: The dynamic response volume control automatically adjusts the audio, so you can hear your friends even in loud scenes or climax choruses.
Share your screen: Share your screen to bring web pages, apps, and more into your conversation on FaceTime.
Multiple device support: Connect over FaceTime on your iPhone while watching video on your Apple TV or listening to music on your HomePod.
Without wasting too much time, let's learn how to share and play music together on iPhone through FaceTime screen sharing in iOS 15.
How To Play and Listen to the Same Song With Your Friends on iOS 15
To listen to music together on iOS 15 using SharePlay on FaceTime, follow the below steps:
First, go to the FaceTime app and start a video call with a friend that you want to share your iPhone screen with.
After starting FaceTime, go to a music app like Spotify or Apple Music to play the songs.
Now, while playing a song and talking on FaceTime call, click on the new "Share Screen" button below the End button on the right upper corner of the screen.
By tapping on the new Screen Share or SharePlay button, your friend can also listen to the same songs and share the screen on iPhone while being on FaceTime call.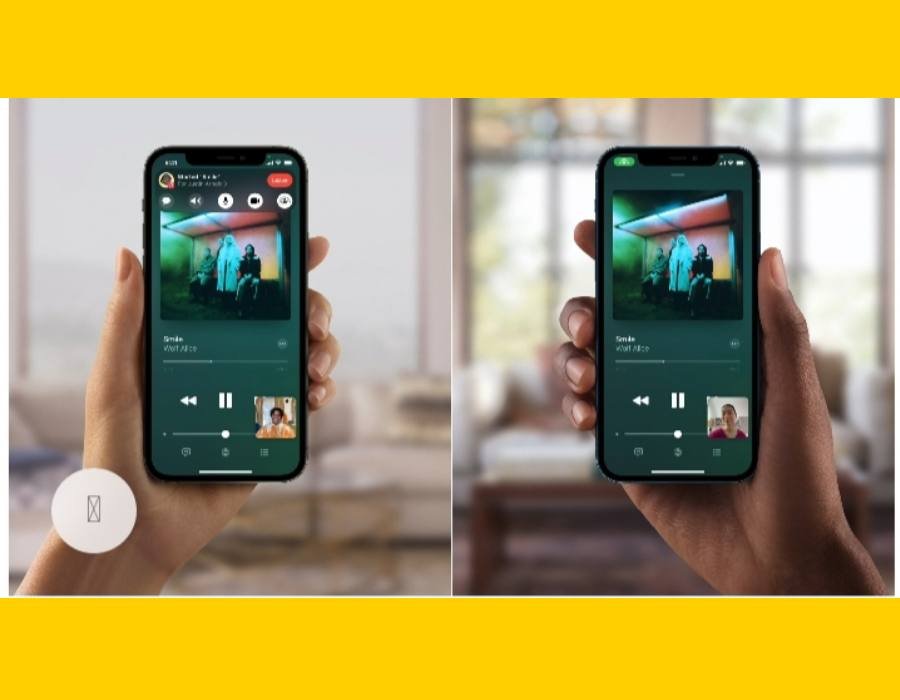 That's it! This is how you can listen to the same song with your friends on iOS 15, iPhone 12, 11, and lower. I think this is a great innovation from Apple because, in the past, users had to record the screen and capture the screen to share with others.
Moreover, users can use this feature in many ways, like:
Watching a movie together.
Share the best gameplay with friends.
Screen any guide to do things.
At the release of iOS 15 beta 1, this feature was not working for many users. After releasing iOS 15 beta 2, Apple finally landed this feature for users. Now that it's available, enjoy the feelings that a music can give! Cheers!
---
Read also: