Do you like the way your Siri sounds? And do you want to change the accent of your Siri? For instance, if you're an Australian you can change the accent of Siri to an Australian accent, the same you can change it to American and British as well. In this article, you will learn how to change Siri's accent and voice on iOS 14 and later for iPad and iPhone, follow the article to know how to have your preferred voice and accent.
Siri has been the best voice assistant for years on Apple products. Siri has a great voice. It is one of the most natural virtual assistants. It competes with Amazon's Alexa, Microsoft's Cortana, and Google Assistant. Siri can be accessed from other Apple products such as iPhone, iPad, Mac, Apple Watch, Apple TV, and HomePod.
Change Siri's Accent and Voice on iOS 14 for iPhone and iPad
Siri does more than ever, a lot of things can be done with Siri. You can ask Siri for anything, from simple weather queries to more complex queries, from sports performance to the number of calories in your food. Siri can also change settings, search for content, set alarms and reminders, make emergency calls and send text messages, etc. You can have your preferred settings for Siri, like changing its gender and accent. Read below:
Note: you can follow the steps below for both iPhone and iPad. In my case, it's an iPhone running on iOS 14.6 Beta.
How to Change Siri's Voice on iOS 14 and later (iPhone & iPad)
Is Siri a female or male? Neither of them. Siri does not have a gender, it's genderless (Ask Siri for yourself if you don't believe us). For many years, Siri's default voice was a female one, but you can have a male one if you want. But in iOS 14.5 or 14.6 you don't even have a male or female option. You only have Voice 1 and Voice 2.
To change the Siri's Voice, follow the below steps:
Open the Settings App.
Tap on Siri & Search.
Select Siri Voice.
Now, in iOS 14.5 Case, select Voice 1 or Voice 2 under the VOICE menu. Simply, one is a male voice and the other is the female one, and by tapping on that you will know.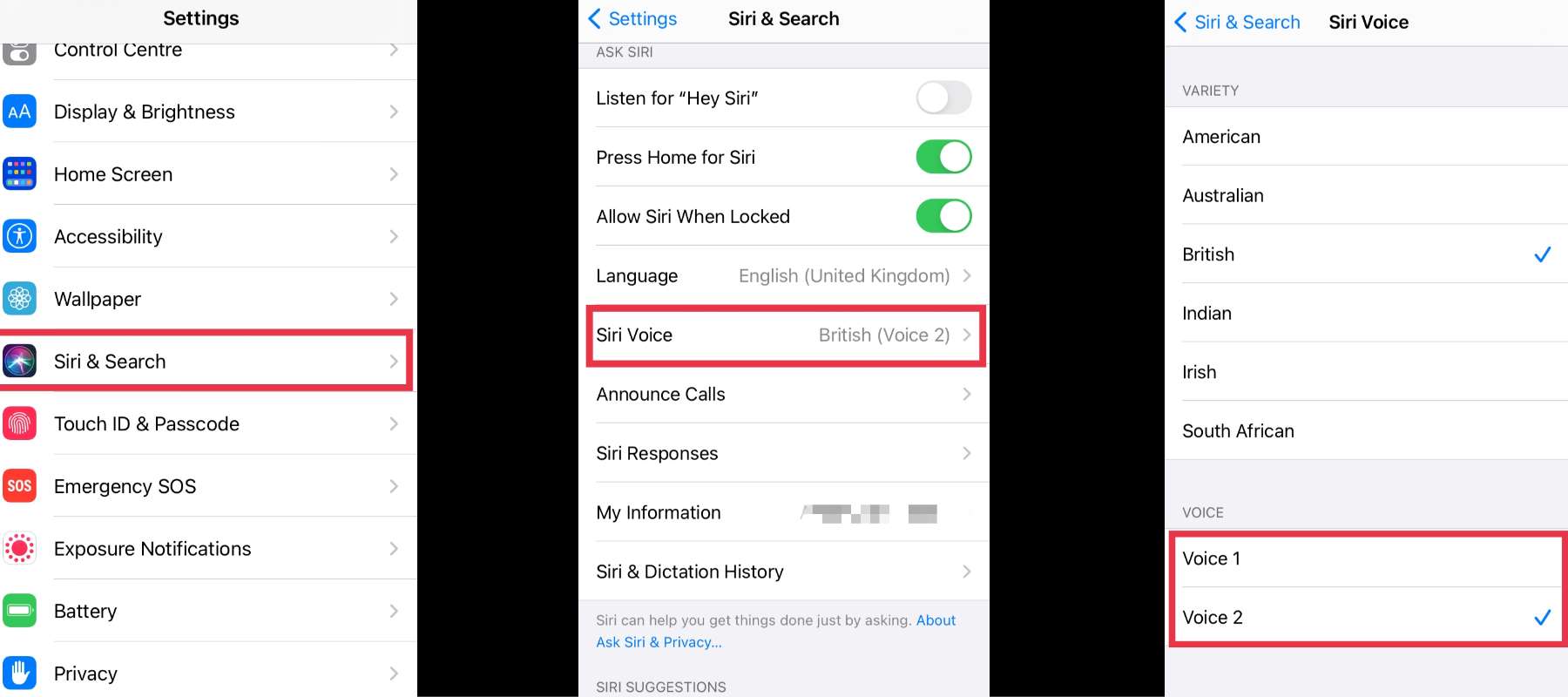 How to Change Siri's Accent on iOS 14 (iPhone & iPad)
Siri has six accents to choose from: American, Australian, British, Indian, Irish, and South American. (If you are using Siri in a language other than English, your options may vary.)
Apple has modified Siri's voice options in iOS 14.5 to promote diversity. Now there are two American English voices, voice 1-4, instead of male and female. Also, Siri is no longer set as a female voice option during setup, but you can choose one of Siri's voice options instead.
To change Siri's accent on iOS 14 to your preferred accent, follow the steps below:
Go to the Settings App.
Select Siri & Search.
Click on Siri Voice and select your preferred accent like American, Australian, or any other accent under the VARIETY menu.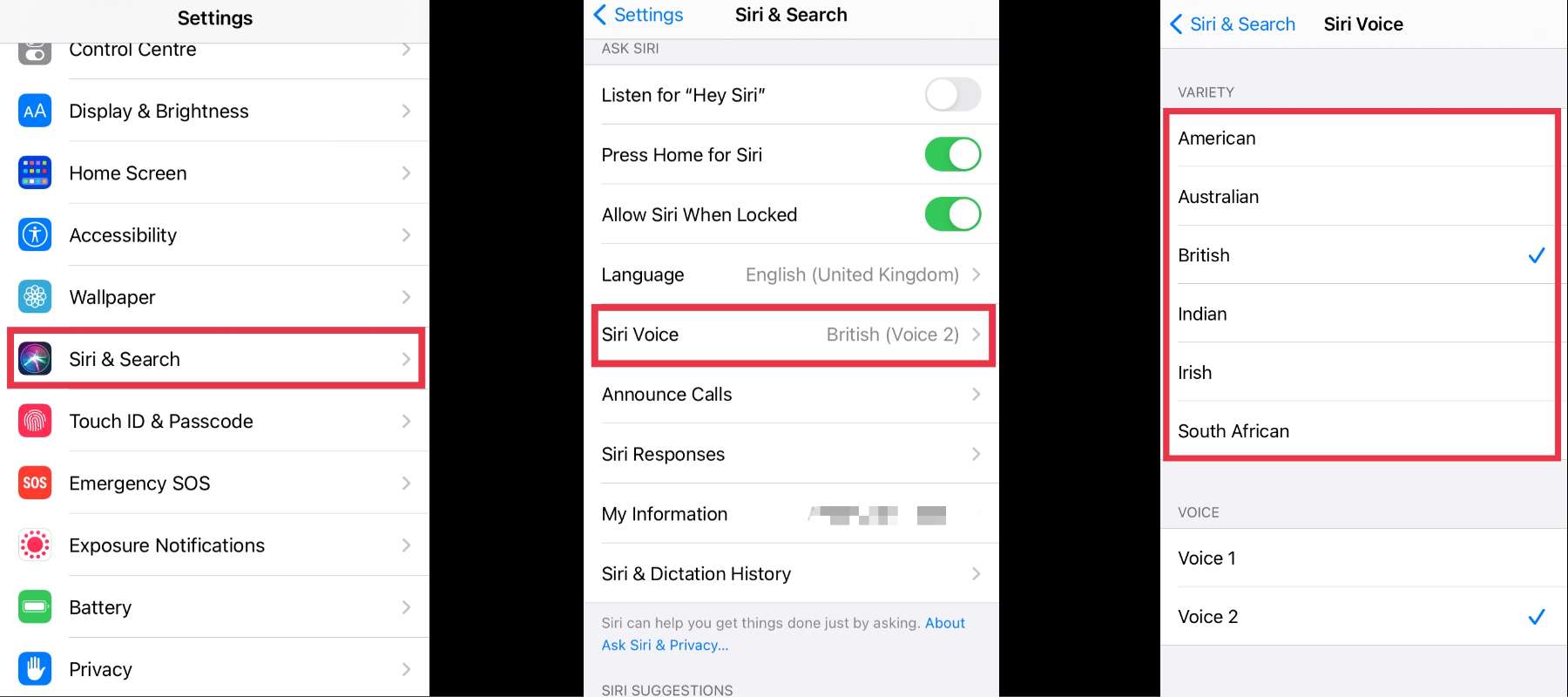 Top 5 Voice Assistants
Google Assistant.
Amazon Alexa.
Apple Siri.
Microsoft Cortana.
Samsung Bixby
1. Google Assistant
Google Assistant is a virtual assistant with artificial intelligence that can be used primarily on mobile devices and smart home devices. Unlike Google Now, the company's former virtual assistant, the Google Assistant allows you to have two-way discussions.
2. Amazon Alexa
Amazon Alexa or simply Alexa is an Amazon Echo smart speaker and Amazon Lab126 Amazon Dot, Amazon Studio, and Amazon Tap speaker, a virtual assistant AI system originally developed by Amazon. Voice dialogue, music playback, to-do lists, alarms, streaming podcasts, audiobooks, weather, traffic, sports, news, and more, all in real-time. Alexa can also act as a home automation system that controls a variety of smart devices.
3. Apple Siri
Siri is Apple's voice recognition personal assistant, and she (or he) has been around for quite some time. Originally introduced on the iPhone 4S, Siri is now accessible from iPad, iPod touch, Apple Watch, AirPods, HomePod, and Mac (macOS Sierra and above).
Siri has matured over time. IQ increased as well as her ability. She also followed Amazon's Alexa and Google's Google Assistant.
4. Microsoft Cortana
Cortana is a voiced virtual assistant developed by Microsoft and helps Windows 10 users initiate requests, perform activities and predict future needs. Since its debut in Windows 10 in January 2015, Cortana has grown to support Android and iOS devices, Xbox, Edge browsers, Windows Mixed Reality headsets, and third-party devices including temperature and smart speakers. According to Microsoft, Cortana is currently used by more than 148 million people.
5. Samsung Bixby
In addition to Google support, Samsung's Android smartphone includes its voice assistant, Bixby. Samsung's Bixby strives to compete with Siri, Google Assistant, and Amazon Alexa. Although it doesn't have the same level of success as the other 3 assistants, it comes preinstalled on many Samsung smartphones.
Final Words
That's it. This how you can easily change Siri's accent and voice on iOS 14 or later, doesn't matter whether you use iPhone or iPad, this instruction is applicable for both.
Using Siri is fun and makes things easy for you. isn't that what human evolution is all about, making things easier? Have fun!