The Android OS includes a wide range of phone options that provide customized Android experiences. Each one provides its own special way of taking a screenshot on the phone, in addition to the universal Android method of pressing the home and power buttons simultaneously.
However, sometimes taking screenshots on Android can be challenging and frustrating, especially if you're not careful with your buttons. You might end up accidentally shutting down or restarting your phone. In this guide, we will help you learn how to capture screenshots on the Nothing Phone 1.
3 Ways to Take Screenshots on your Nothing Phone 1
You can take a screenshot on your Nothing Phone in three ways: power button + volume down, voice command, and accessibility floating button. You will find the step-by-step guide below.
Method 1. Using the Power + Volume Down Button
You can take a screenshot on Nothing Phone 1 by quickly pressing the volume down and power buttons, just as you can on any other Android phone. Simply hold down the two buttons at the same time for a split second. When you let go of the buttons, a screenshot will be taken. When a screenshot is taken, you'll hear a "shutter" sound. Then, a toolbar will appear at the bottom of the screen, allowing you to quickly make changes, share, or delete the screenshot.
Method 2. Via Take a Screen Voice Command with Google Assistant
Google Assistant allows you to use voice commands to take screenshots on your Nothing Phone 1. A simple "Hey Google, Take a screenshot" voice command will have the Google Assistant capture a screenshot of your screen. Although the screenshot won't be saved locally, you can easily share it with others.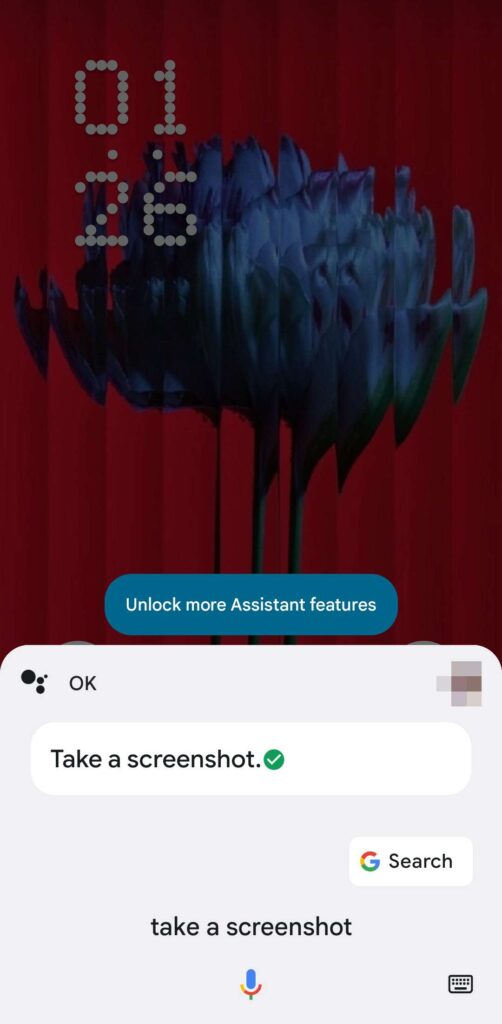 Method 3. Accessibility Floating Button
The Nothing Phone (1) also has an accessibility floating button that can be used to capture a screenshot in addition to the above methods. To take a screenshot, you'll need to enable this feature first. To do so, follow the steps given below-
Open the Settings app, then, go to "Accessibility > Accessibility menu".
Now, enable the toggle for the "Accessibility menu shortcut".
Next, tap on the Accessibility Menu Shortcut, and select how you want to access the Accessibility menu. When done, tap "Save" to continue.
Now, open the Accessibility Menu, and then tap on the "Screenshot" option.
This will take a screenshot on your device.
---
How to Take a Long or Scrolling Screenshot on Nothing Phone
If you need to take a screenshot of a long list or webpage on your Nothing Phone, you can do so by taking a long or scrolling screenshot. With a long or scrolling screenshot, you can save yourself the trouble of taking multiple screenshots of a long list by capturing the entire thing in a single screenshot. This can be done by using either the first or third methods described above. Simply follow the steps below to take a long or scrolling screenshot from your Nothing Phone (1).
To begin, use the first or third method to capture a screenshot of the page or list.
A screenshot notification appears at the bottom of your phone screen after you take a screenshot of your screen. To proceed, tap "Capture More."
Now, choose the area where you want to take the screenshot. Then, to save the screenshot, tap the "Save" button in the upper right corner.
---
Final Words
Taking a screenshot on Nothing Phone is a simple process. Even newbies and older generations who are not comfortable pressing the volume down and power buttons can do it by following the steps outlined above. Finally, if you have any questions or comments, please leave them in the section below.
---
Read also: