There is no doubt that Apple AirPods are truly one of the best wireless earbuds, but sometimes iPhone or iPad users may prefer to use Samsung Galaxy Buds, maybe it is cheaper than AirPods or for any other specific reason. So in this guide, we will show you how to pair and connect Galaxy Buds Live to your iPhone and iPad.
Galaxy Buds Live
The Galaxy Buds Live Samsung's true wireless solution to Apple's wildly successful AirPods, and they're much better, according to our experts. These are the earbuds for you if you're a die-hard Samsung Galaxy user.
Plus, since its launch, Galaxy Buds Live has piqued fans' interest, which is no wonder. You can turn on and off the active noise reduction function, waterproof coating, and new ergonomics with two different wingtip sizes. Long-lasting design and battery life.
AirPods and Galaxy Buds seem to fit well into the same family of products. You may not have access to all possible features if you connect Galaxy Buds to your iPhone or iPad, but you still experience an immersive and high-quality audio experience when you pair your new Galaxy Buds with your iPhone. Below you'll learn how to do it.
Connect Galaxy Buds Live to your iPhone and iPad
If you have an iOS device, you can use still Galaxy Buds Live just like any other wireless headset and take advantage of the cool features of most devices a few steps away. Here's how you can connect Galaxy Buds Live to your iPhone and iPad and start listening to your favorite song all day long:
Note: Remember, you can easily pair Samsung Galaxy Buds Live to an iPhone or iPad directly via Bluetooth. However, if you want to customize it further, you need to download the "Samsung Galaxy Buds" app from the App Store.
Open the App Store on your iPhone or iPad and Download Samsung Galaxy Buds and make sure that the Bluetooth is also turned on as well.
To connect the Galaxy live Buds to your iOS devices, you must first open its charging case. Although it does not seem so, opening the case puts the earbuds into pairing mode, allowing phones, laptops, and tablets to locate them using Bluetooth.
Now, open the Samsung Galaxy Buds app on your iPhone or iPad and tap Get Started.
Now, tap on Galaxy Buds Live from the list.
Here, your Galaxy Buds will appear, simply click on it and click Connect
Click on Continue and Got it on the next screen.
Click on Confirm.
That's it, your Galaxy Live Buds are successfully paired and connected to your iPhone or iPad.
Follow the below image for the step-by-step guide:

Customize Galaxy Buds Live With the Samsung Galaxy Buds App on iPhone
The Samsung Galaxy Buds app on the iPhone will automatically open when the earbuds are connected.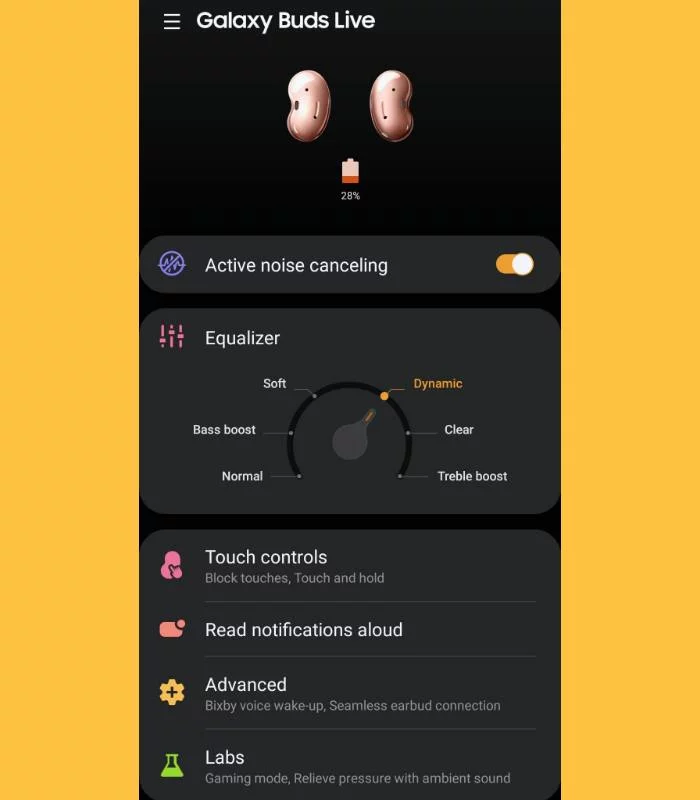 Here is what you can do with Samsung Galaxy Buds App:
Connect to and disconnect from a mobile device
Earbuds & Charging Case battery status
Ambient Sound (Samsung Galaxy Buds+ only)
Active Noise Cancelling (Samsung Galaxy Buds Live only)
Equalizer Setting
Touchpad Setting
Advanced Feature
Find my Earbuds
Earbuds Software Update
Final Words
So the end. This is how to pair and connect Galaxy Buds Live to your iPhone and iPad using the Samsung Galaxy Buds application. Meanwhile, the Samsung Galaxy Buds application allows you to customize certain things like active noise canceling equalizer touch controls.
---
Read more: