Do you want to have two or three WhatsApp accounts on the same mobile? Then you are in the right place and at the right moment. In this guide, I will show you how to use multiple WhatsApp on a Samsung Galaxy mobile. Meanwhile, there's no doubt that WhatsApp is the dominating social media app when it comes to the best messaging app besides Signal and Telegram. You know, using a dual or 2 WhatsApp accounts can be quite useful. For instance, use one personally while using the other WhatsApp account for your business.
However, you can find several third-party apps on the Google Play Store that let you have two WhatsApp accounts on the same device. You are going to use the applications to run multiple WhatsApp accounts on a phone and then use them to have multiple WhatsApp accounts in these apps accordingly.
How to Use Multiple WhatsApp on a Samsung Galaxy Mobile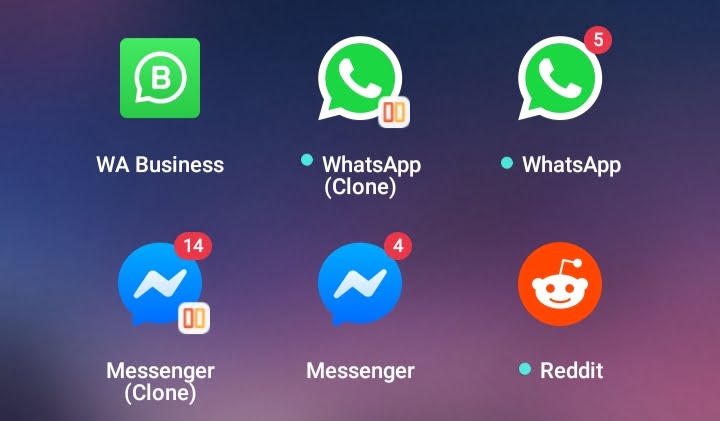 However, I have good news for Samsung Galaxy mobile users: if they want to have two WhatsApp accounts on the same devices, they won't have any issues. In their new mobile phone firmware built on the newest Google Android 8.0 Oreo, the Korean mobile manufacturer has introduced a new feature by the name of "Dual Messenger," which allows users to install two different profiles for the same social networking or messenger service.
Dual Messenger enables users to run two of the same app at the same time. Each app can have its account which will work independently of the other accounts. Having Separate contact lists is also an option for you. WhatsApp, Facebook, Telegram, and Skype are among the supported applications. Once you have the supported applications installed on your device, they will appear in the list automatically.
However, here I'll tell you 4 methods that enable you to run multiple WhatsApp accounts on a phone.
1. Use Dual WhatsApp on your Samsung Galaxy Mobile via Samsung Secure Folder
Samsung Secure Folder is an encrypted space on your device where the images, videos, files, applications, and data, that you wish to keep safe and secret from prying eyes, can be stored.
To secure and protect all of your confidential documents, the safe folder is protected by the defense-grade Samsung Knox security platform. To have your data away from prying eyes, you should use and apply a passcode or you go for a biometric lock.
Secure Folder of Samsung on the other hand requires you to have different Android interfaces. It deploys a wholly new Android software for an Android Phone, enabling you to have any of the Google Play applications connected and updated. Samsung created Knox to help consumers differentiate their personal and professional lives, but it can be used for any kind of purpose.
Enable Samsung Secure Folder:
Head over to the Settings > Biometrics and security > Secure Folder. Or you can find it from Notification Bar as well.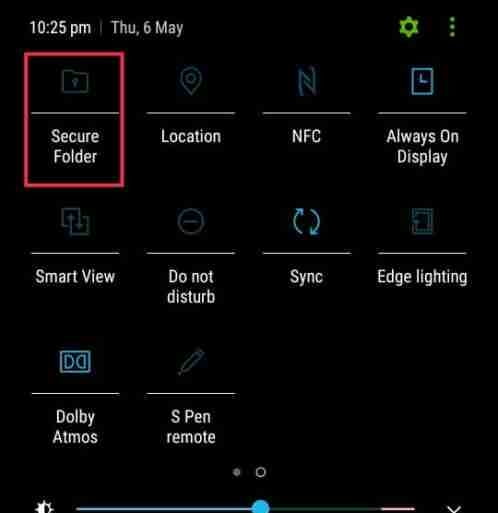 Click Agree.
Write down your Samsung Account details, then click Sign in or OK.
Select the lock method you wish to use, then click Next.
Enter your preferred lock method, then select Continue.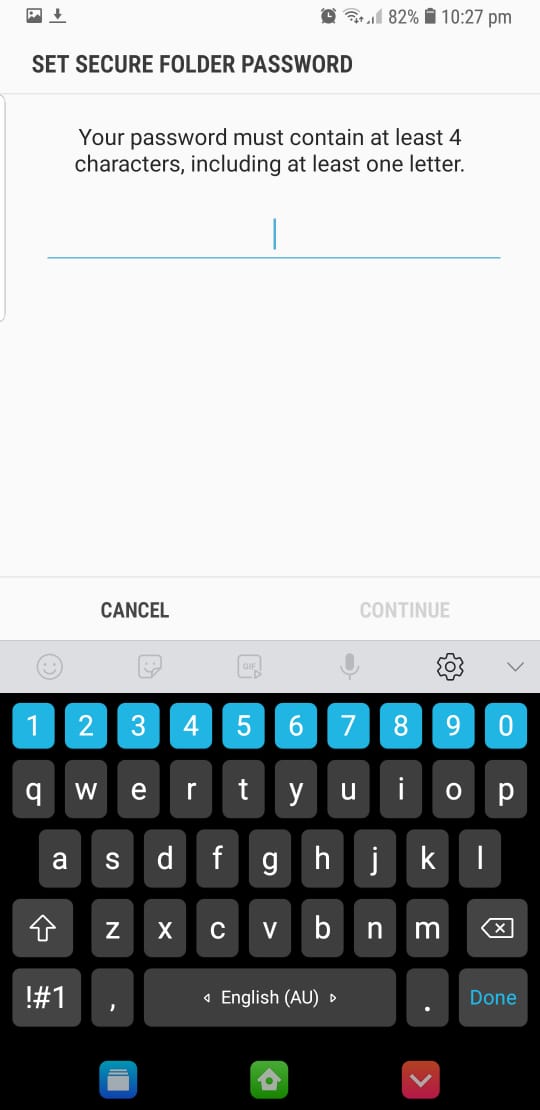 Enter the lock method again, then choose Confirm.
A shortcut to the Secure Folder will be added to your Home and Apps screen.
Use Two WhatsApp With Secure Folder:
Open the "Secure Folder" app.
Click on the"Add apps" option.
Find WhatsApp and click on "Add"
Just like that, you will have another WhatsApp app shortcut in your Secure Folder. Now, you can use another number to register in it and you can also use it with the original one at the same time on the same single phone.
2. Have multiple WhatsApp on Samsung using Dual Messenger
Here are the steps you can follow to use dual WhatsApp on a Samsung Galaxy mobile using Dual Messenger on Samsung:
Step 1. Have a pre-installed WhatsApp installed from the Google Play Store and set it up with your number.
Step 2. Open the Settings app and then click on the Advanced features.
Step 3. Selecy Dual Messenger.
Step 4. Turn the toggle on next to WhatsApp. A pop-up will appear, confirming the installation of the second WhatsApp. Tap on Install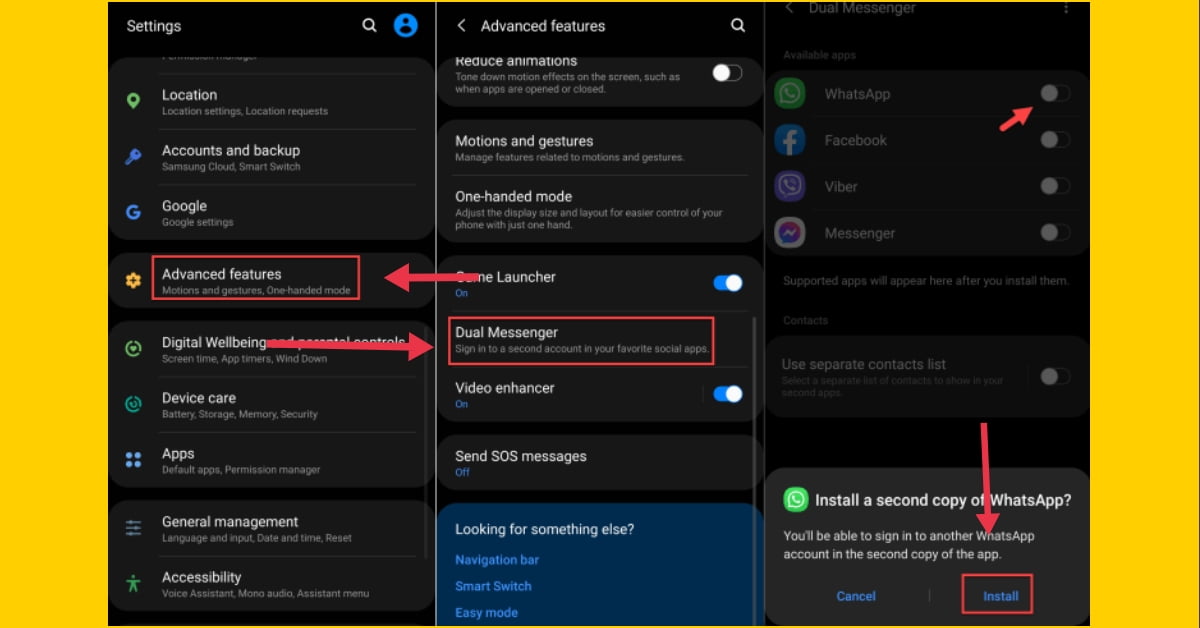 Step 5. Now, open the home screen of your Samsung Galaxy phone and you can see the newly WhatsApp installed on your mobile. This second WhatsApp has the Dual Messenger symbol on them that you can differentiate between the two apps. Use the second WhatsApp to Set up your account, and you are ready to go.
3. Run dual WhatsApp on your Samsung Galaxy phone using Dual Space app
Dual Space is specifically designed for those users who sign in to more than Two Accounts of One App with only One Phone. Almost all apps are supported for a second account. This also the application that is compatible with WhatsApp completely. It lets you have two WhatsApp on the same device, and you can bring balance between life and work easily. Two accounts will function independently and Messages from both accounts won't interfere with each other.
Follow the below steps to run multiple WhatsApp accounts using Dual Space:
Step 1. Open the Google Play Store, and search for Dual Space. Tap the Install button.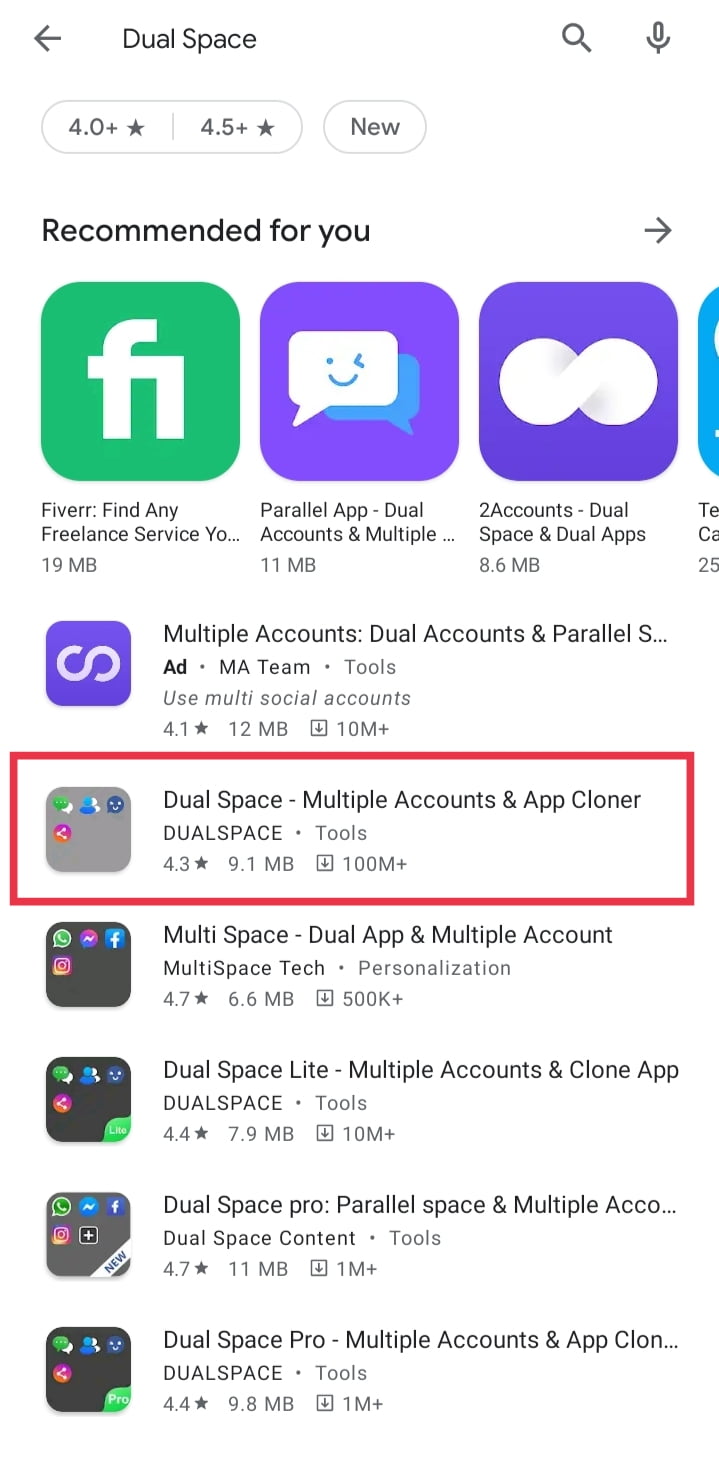 Step 2. Open the Dual Space app, and tap on the 'Start' option.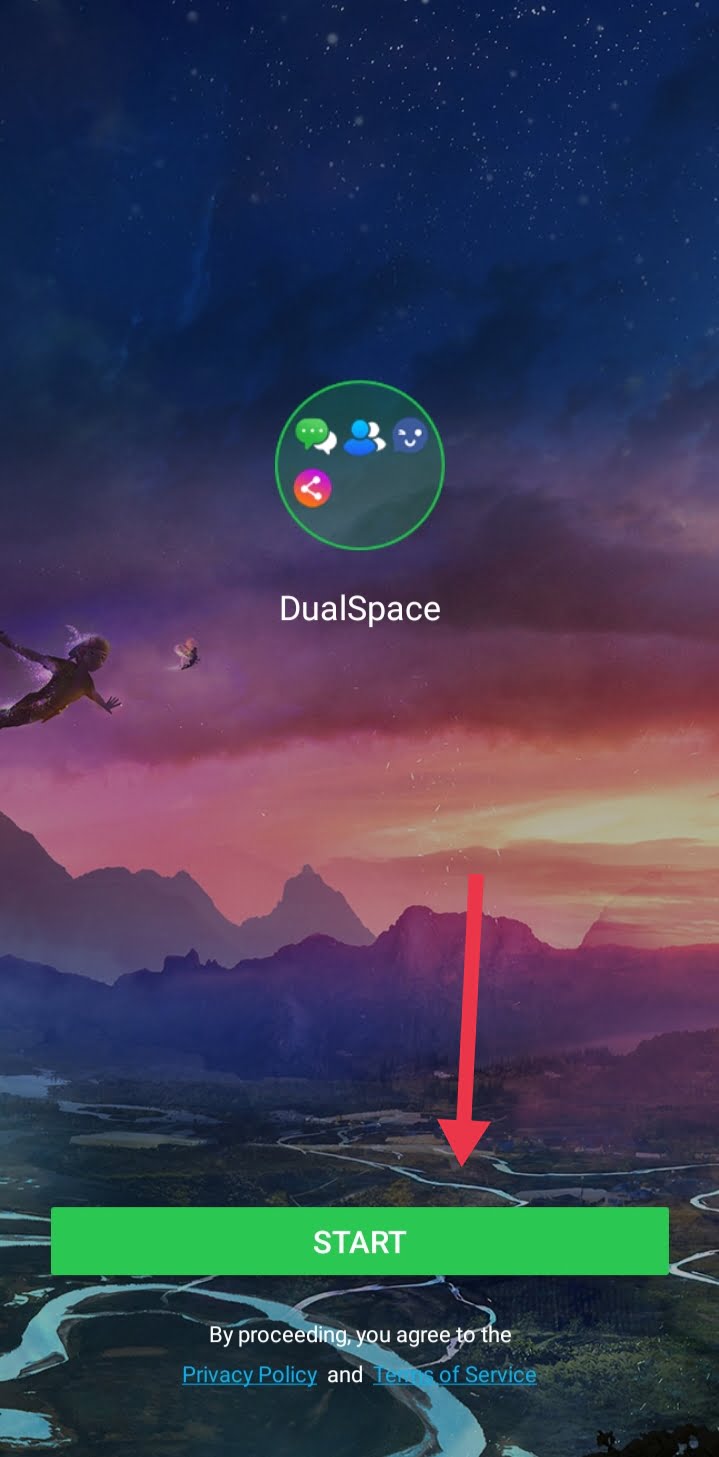 Step 3. You can see the social apps already there if you can't see WhatsApp. Tap on the 'Add' option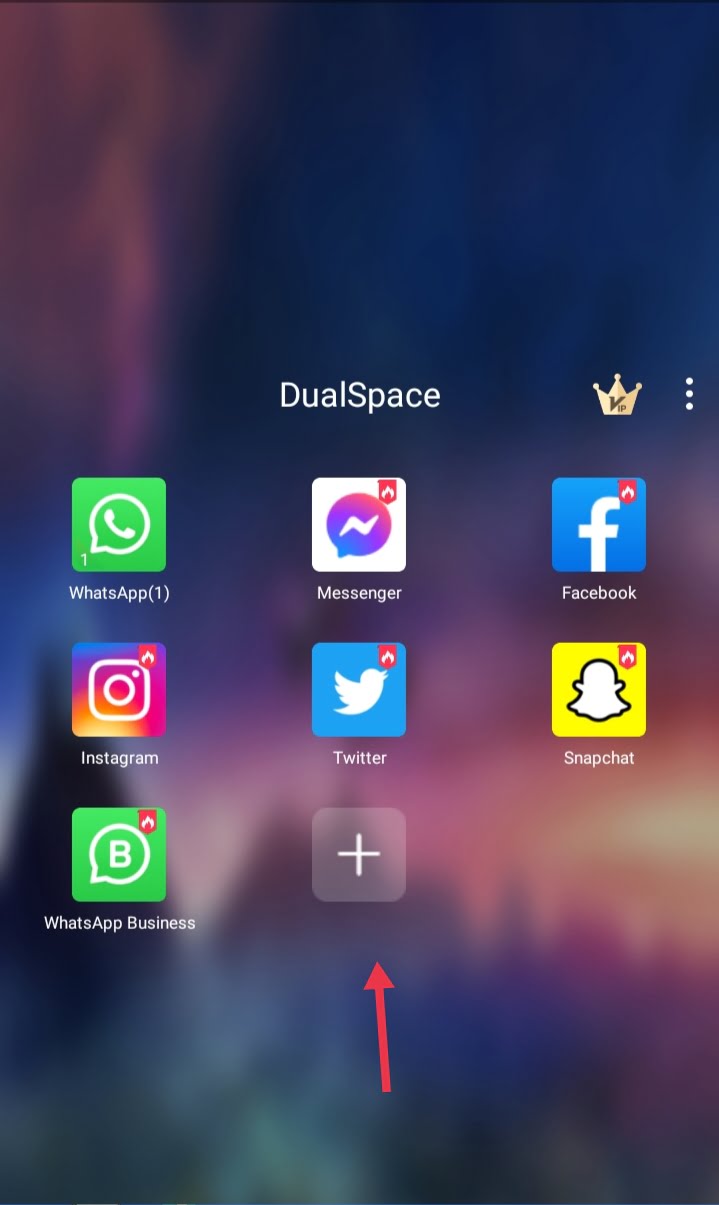 Step 4. Now, just open WhatsApp from there and set your account in it.
That's how you can have two WhatsApp accounts on the same device using Dual Space.
4. Install WhatsApp Business
Having installed the business version of WhatsApp is another way to use dual WhatsApp on a Samsung Galaxy mobile or any other mobile. It's another free messaging app from Facebook's parent company, which also owns WhatsApp.
WhatsApp Business is a business-oriented app that includes features such as icons, catalogs, greeting messages, and many more. This strategy also enables you to run multiple WhatsApp accounts without having to use any additional effort. Anything on your second WhatsApp account can be customized as well.
To install WhatsApp Business, just go to Google Play Store and search for 'WhatsApp Business' and install it.
Final Words
These are the 4 best methods to use multiple WhatsApp on a Samsung Galaxy mobile. The choice is yours, you can either use the Dual Messenger option or Dual Space, or you can use all of them to have more than 4 WhatsApp accounts on the same device.
---
Read More: