Safari is the default web browser on all Apple devices. While most users now prefer the Chrome browser, Safari is still a popular browser among Apple device users. If you frequently switch between Windows and Mac computers, you may want to use the Safari web browser when using a Windows 11 PC. In this guide too, we will help you learn how you can download and install Safari on a Windows 11 PC or laptop.
What is the Safari Browser?
Safari is the browser you can find on Apple devices. According to the company, it is "the fastest browser in the world" and loads frequently visited websites more than 50% faster than Chrome. (The Safari homepage also has benchmark ratings and comparisons.) Because it is specifically designed for Apple devices, it is also designed to extend battery life (Apple says it can give you an extra hour of surfing the Internet compared to Chrome and Firefox).
Due to the constantly evolving technological environment, the demand for user-friendly web browsers has increased. From banking to transactions to online shopping, users from all over the world are looking for safe and easy-to-use browsers for various purposes.
This browser has been optimized for ease of use and provides unique features and tools that give it a competitive advantage over other browsers on the market. Based on Apple's reputation, the Safari browser has left a deep impression on users with its unique features and simple design.
Note: Safari is designed for MAC systems and may not run optimally on your Windows 11 computer. On the contrary, Opera is one of the best browsers that is fully compatible with Windows.
Steps to Download and Install Safari on a Windows 11 PC
1. Download Safari on Windows 11
To download Safari on your Windows 11 PC or laptop, click on the download button below:
It will take you to another web page, from there simply click on the 'Download' button and start downloading.
2. Install Safari on Windows 11
Step 1. After the Safari app is downloaded, find the installer and open it to start installation.
Step 2. Once opened the 'Safari' installer Click on the Next.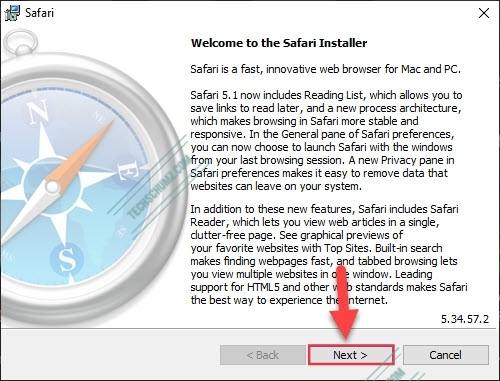 Step 3. Then, you can read the Privacy stuff, and select the 'I accept the terms in the license agreement', and click on 'Next'.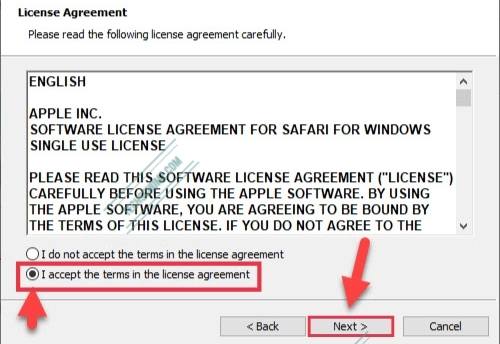 Step 4. Here you may check the boxes if you want to and then click on 'Next'.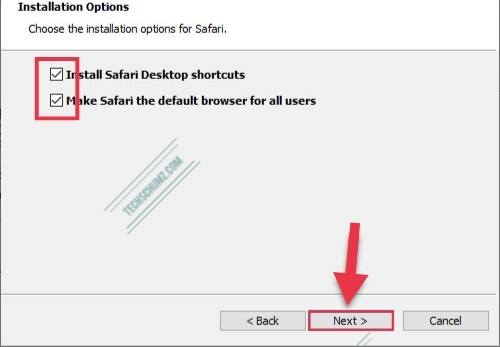 Step 5. Now, click on the 'Install' button. Note that you can also change the destination of the file.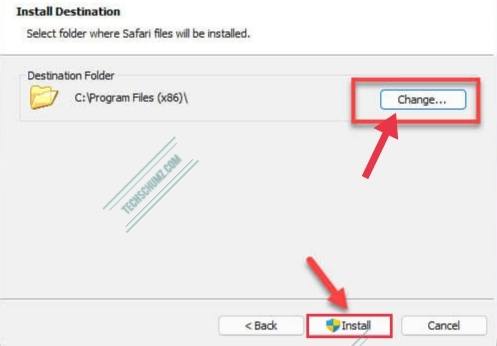 Step 6. Once done, click on the 'Finish' button, and then you can simply open it and srart using it.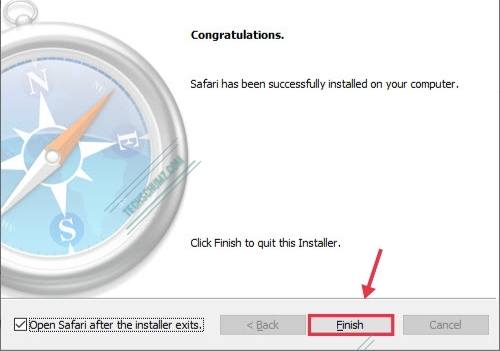 That's it!
Conclusion
Safari is a favourite browser of most people. It's compatible with Apple devices but you can also download and install Safari on a Windows 11 PC or laptop too. But remember, it may not best work with your Windows computer, because Apple hasn't released any update for Windows for a long time.
Lastly, if you encounter any questions, please use our comments section to ask your questions.
---
Read also: