After a seemingly long wait, Microsoft finally released what it called the "next generation of Windows." Windows 11 is a significant change. It represents a major change in the way Microsoft delivers Windows, but it is also a major overhaul of the user experience. Most importantly, you have received compatibility with a new Android app, a new store, etc.
If you have already installed it and want to activate it, then you have come to the right place. In this guide, I will help you learn how to activate Windows 11 for free without a product key or any software. However, before activating Windows 11, let's have some information about Windows 11 and its features.
Windows 11 & Its New Features
Microsoft has released Windows 11 with extensive inspection and a variety of new features. With a new Start menu and rounded corners, Windows 11 has a new look and many new features which you will definitely love. You will read about them below:
New Features in Windows 11
Widgets: Although they have been around for a while (remember the desktop gadgets in Windows Vista?), even in the recent Windows 10 update. In Windows 11 you can now access the widgets directly from the taskbar and customize them the way you want.
A new interface: Windows 11 uses a simple design with rounded corners, soft tones, and a centered "Start" menu and taskbar.
Microsoft Teams integration: Teams is being overhauled and will be integrated directly into the Windows 11 taskbar to make it more accessible (more like Apple's FaceTime). You can access Teams from Windows, Mac, Android or iOS.
Supports Android apps: Android apps are now supported on Windows 11 and can be installed within the new Microsoft Store via the Amazon Appstore. (There were several ways to access Android apps on Windows 10, including if you have a Samsung Galaxy phone, but this will set it to the default.)
Better virtual desktop support: Windows 11 allows you to set up virtual desktops in a way more similar to macOS, switching between multiple desktops for personal, work, school, or gaming use.
Better gaming: Windows 11 will get certain features on Xbox consoles, such as Auto HDR and Direct Storage, to enhance games on Windows PCs.
Better multitasking: The new operating system includes features called Snap Groups and Snap Layouts collections, which are located on the taskbar and can display or minimize the applications you are using at the same time to make it easier to switch tasks. They also allow you to more easily connect and disconnect from the monitor without losing the position of the open window.
And also, instead of the Live Tiles that you may have seen in Windows 10, the new Start menu now includes some suggested programs at the bottom. Microsoft has also included a dedicated search button, allowing users to look for their favourite programs and preset features.
Steps to Permanently Activate Windows 11 For Free
After seeing all these features in Windows 11, it's not bad to have it activated. So For activation, you need to follow the below steps carefully:
Step 1. Disable Real-time protection
Open the Windows 11 Start Menu and simply search for Windows Security. Or open the Settings app from apps list and navigate to Windows Security.
Next, go to the "Virus & threats protection settings".
Now, find the 'Real-time protection' option and turn it off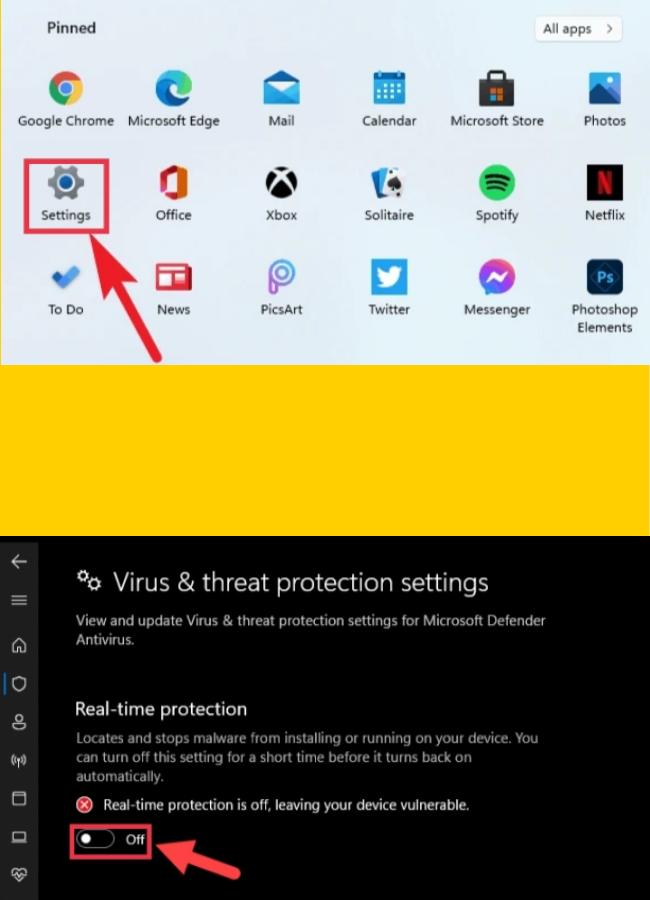 Step 2. Activate Windows 11
To get started, you need to have the activator text, you can go here and copy it.
Next, go to the Start Menu and search for Notepad, and click to open it.
Now, paste the code inside the Notepad.
Go to the File menu and find the Save As option and click on it.
Now, while saving it, you need to give the File name like Windows11activation.bat. y Remember you can any name you want but you must add .bat.
After you have given it a name, simply tap on Save button to save it.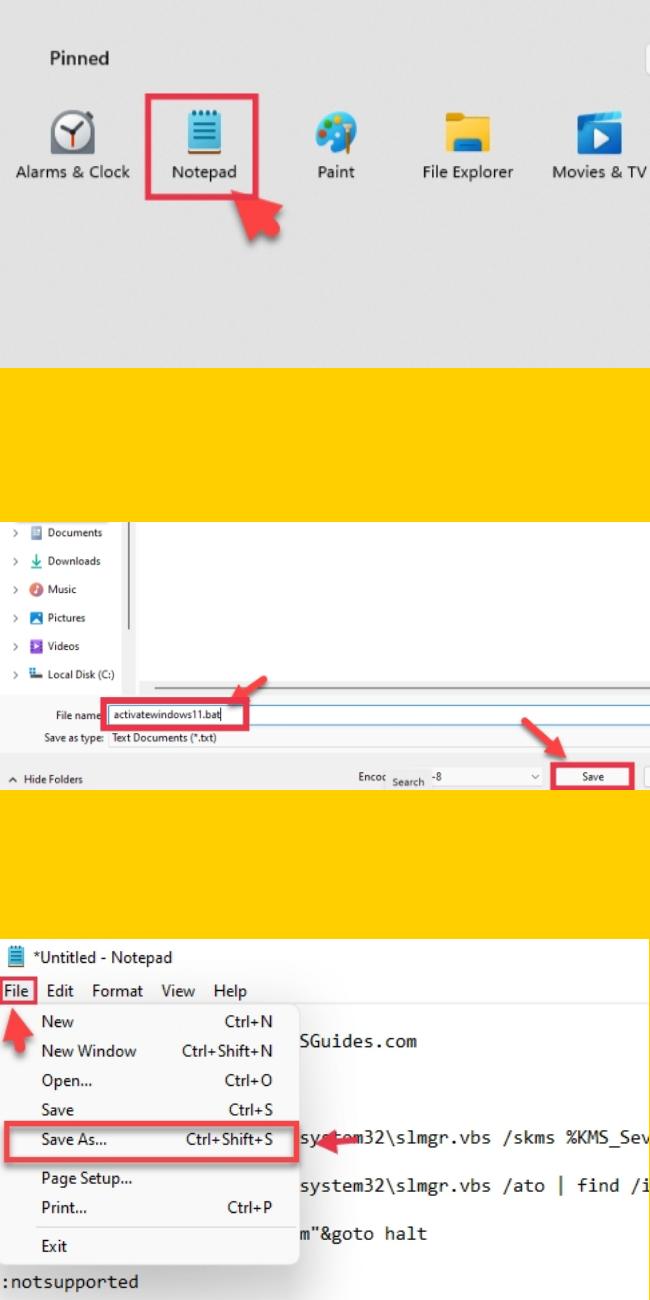 Now, go to the location where you save the bat file, right-click on the bat file and choose Run as administrator.
Now, Windows 11 Activating process starts.
After the process is completed, you will see Product activated successfully. It simply means that your Windows 11 is activated.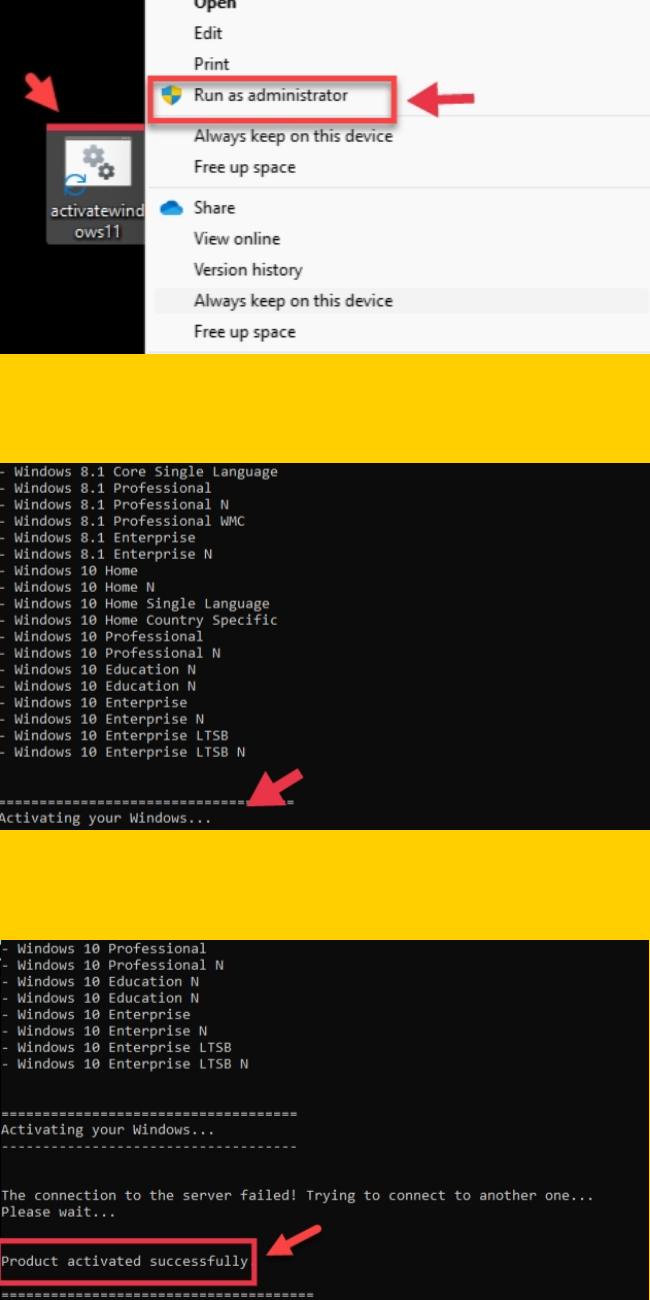 How to Check if Windows 11 is Activated?
If you are not sure whether it's activated or not, you can check it from settings. Follow the steps below:
Go to the Start Menu and open Settings app from the app lists. Alternatively, press the Windows + I shortcut to open Settings.
Fins the Update & Security and tap on it.
On the next window, select Activation from the left pane.
Under the Windows section, you will see the Edition of your Windows 11 and also whether your Windows 11 is activated.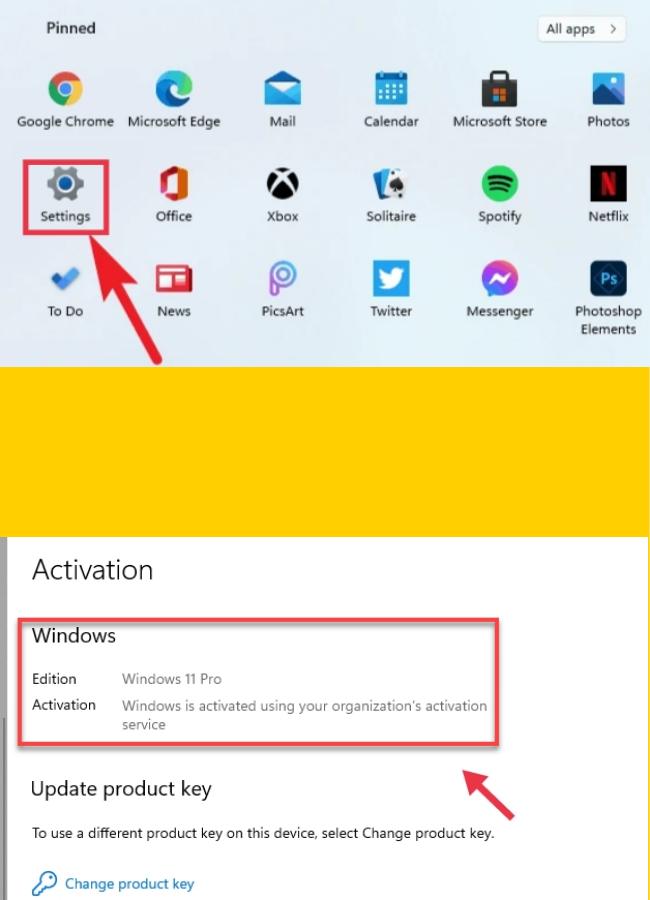 This is how you can activate Windows 11 for free without a product key or any software.
---
Note: This guide is just for educational purposes only.