I bet you've heard about the new OS, know as macOS Monterey, for Mac, I'm pretty sure you are here because you want to try it on your Windows 10 Computer. Then you are in the right place, in this article, I will show you the best and step-by-step instructions to Install macOS Monterey on VirtualBox on Windows 10 PC & laptop. I need you to read this post to the end and provide your thought regarding our guidance.
Related: How to Install macOS Monterey on VMware on Windows 10 PC
macOS Monterey
Apple has announced the next version of macOS at its WWDC keynote, after showing off iOS, iPadOS, and watchOS. It's being called Monterey, in keeping the California location-based theme it's had since 2013.
macOS Monterey (macOS 12) is replacing macOS Big Sur in Apple products on the market. There aren't many changes in macOS 12, but some major updates and changes have already arrived. Its development team added some new features such as general control, Airplay on Mac, shortcuts, 3D map layout, some note updates, etc.
Apple offers a new look and background for macOS Monterey (macOS 12). The new design includes edge curves and adds a new box to settings that require administrator privileges. With the addition of general-purpose controls to macOS Monterey (macOS 12), you can use one mouse for your iPad, iMac, and MacBook. You can use not only a mouse, but also a keyboard and other devices.
On June 9, 2021, and the first beta of macOS Monterey (macOS 12) was available to developers. soon after they will release a beta that you can test without a developer account. Also, don't forget the final version of macOS Monterey (macOS 12), which will be available this fall, and also remember you can download and install macOS Monterey on Windows 10 using VirtualBox which I'll show you stepwise below.
Compatible devices with macOS Monterey
According to Apple, not all Apple computers can support macOS Monterey (macOS 12). Here is a list of Macs that are compatible with macOS Monterey:
2015 and later MacBook
Early 2015 and later MacBook Air
Early 2015 and later MacBook Pro
Late 2014 and later Mac mini
Late 2015 and later iMac
2017 and later iMac Pro
Late 2013 and later Mac Pro
How to Install macOS Monterey on VirtualBox on Windows 10 PC & Laptop
Below I'll show you how you can install macOS Monterey on your Windows 10 Computer in five easy steps. The steps are as follows:
install VirtualBox and VirtualBox Extension Pack on Windows 10.
Create a New Virtual Machine for macOS 12.
Customize macOS Monterey's Virtual Machine.
Running VirtualBox Codes on CMD.
Performing macOS Monterey clean Installation.
Before starting the process, you need to download the below files:
Note: It is important to enable virtualization in BISO. Otherwise, you will get an error "Can't open a session on the virtual machine." Be careful as the BIOS needs to be listed as Virtualization Technology (V-T).
Recommended: I recommend using an SSD in your computer, especially for speed, as most users are saying that their system is slow while using virtual machines. Also, increasing the amount of RAM on your physical computer will not cause any speed issues.
1. Install VirtualBox and VirtualBox Extension Pack on your Windows 10 computer
VirtualBox is the most important factor before we proceed to install macOS Monterey on your Windows 10 computer, so you need to install VirtualBox first on your PC or laptop. I don't think I need to provide a step-by-step installation of VirtualBox for Windows. The steps for most parts are the next step and installation, so that's all. I know you can handle it. If you get any kind of error while installing VirtualBox, feel free to ask.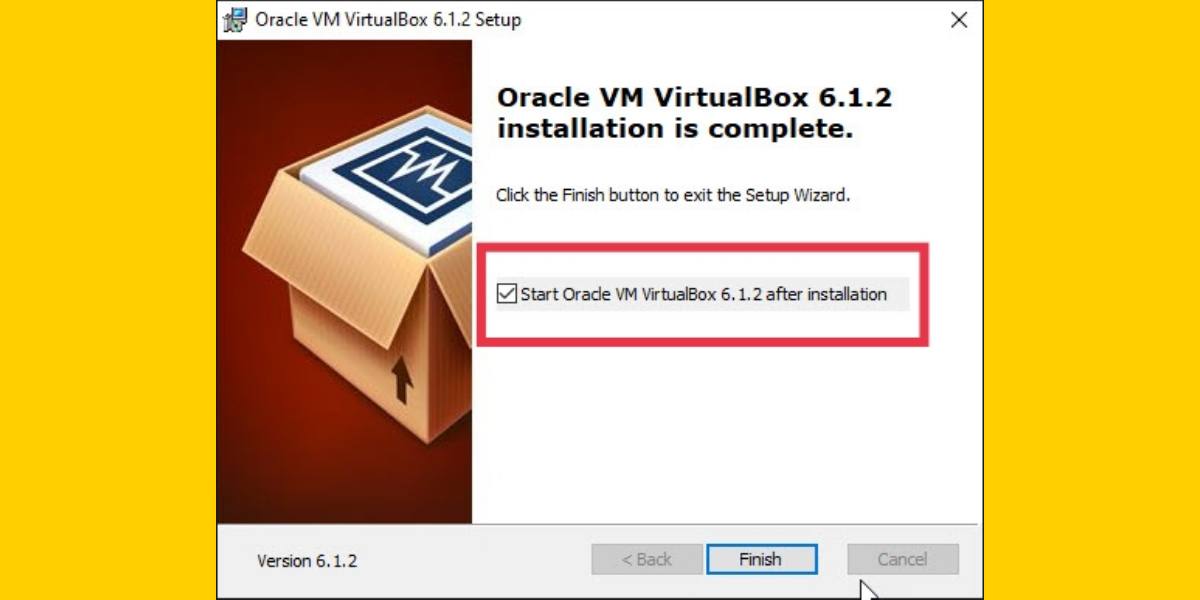 Meanwhile, the VirtualBox Extension Pack is a different matter, and you should be aware of installing it. There are two ways to install the VirtualBox Extension Pack on your PC:
The first method is simple, after installing VirtualBox, double-click the VirtualBox Extension Pack to install it.
The Second method is to go to the File menu and open the VirtualBox settings. Now visit the extension category and click the plus icon to get the extension pack for VirtualBox.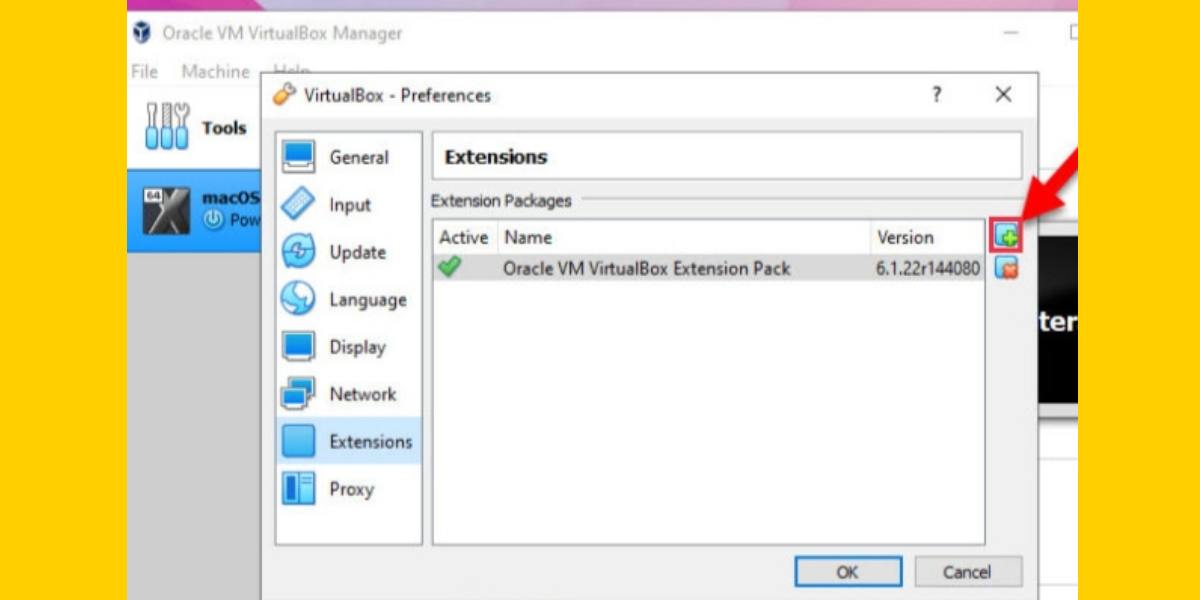 2. Create a New Virtual Machine for macOS 12 Monterey on Windows 10
After installing VirtualBox on your PC & laptop, the second step to install macOS Monterey on your Windows 10 Computer is create a Virtual Machine from where the macOS Monterey will be booting. For that, follow the steps below:
Go the VirtualBox and tap on new.
Next, Tap on the expert mode, enter a name, starting with macOS.
Once the macOS is typed the macOS version and type will be automatically selected by the VB.
Now, you need to choose the amount of RAM for the VirtualBox, I will go with 4 GB.
Next, select create a Virtual Hard disk Now and tap on Create to generate the VM.
Specify the file location to save the Virtual Hard Disk, you can choose the default one or change it. Select the storage capacity of the virtual machine, and finally select the type of Virtual Hard Disk. You can choose the default Hard Disk type called VDI. Finally, remember to choose a dynamically allocated physical drive.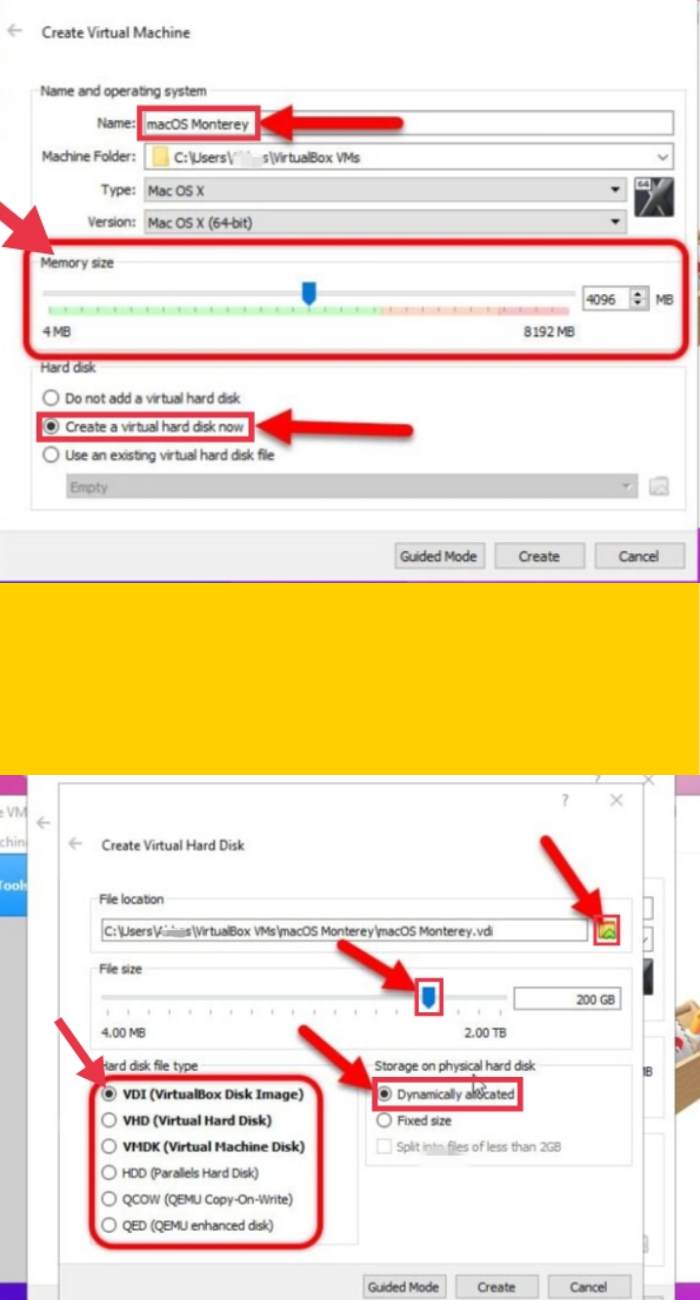 3. Customize Virtual Machine of macOS Monterey
Creating a virtual machine is not a big deal, but configuring and customizing it is important, so you better follow the steps below closely.
After creating the virtual machine, you will return to the main VirtualBox page and click on macOS Monterey settings.
Open the System tab, uncheck the floppy disk since we are not using it, also make sure that you ticked the extended features. There you see other settings like the chipset and pointing device, don't touch them.
For the virtual machine display settings, increase the video memory to 128MB and leave the rest unchanged. I think it would be better if you look at the screenshot below.
In this step, we must attach the macOS Monterey ISO image to the virtual machine. Go to the Storage tab, click empty, next to attributes, click the CD icon and find the macOS 12 ISO image.
The final setup is very simple because you need to enable USB 3.0 to solve the mouse and keyboard freezing issue. When we install the VirtualBox expansion pack, USB 3.0 is enabled, otherwise, it is disabled.

4. Run VirtualBox Codes on CMD
To install and use macOS Monterey in VirtualBox on Windows 10, the VirtualBox code is an important factor. Since VirtualBox does not directly set macOS settings on Windows, this is where the code comes in. If the code is not applied or it is applied incorrectly, the virtual machine containing macOS will be in a loop. They must be applied carefully.
Note: Before you take another step, make sure to know the name of the VM, and then go to the File menu and choose exit.
Open the downloaded codes, then go to the edit menu
Next tap on Replace, replace the VM Name with the Virtual Machine you created a moment ago.
Now open CMD and run it as administrator and copy the code and paste into CMD, then press Enter. Remember that if the code is entered incorrectly you will see an error, try to paste it correctly.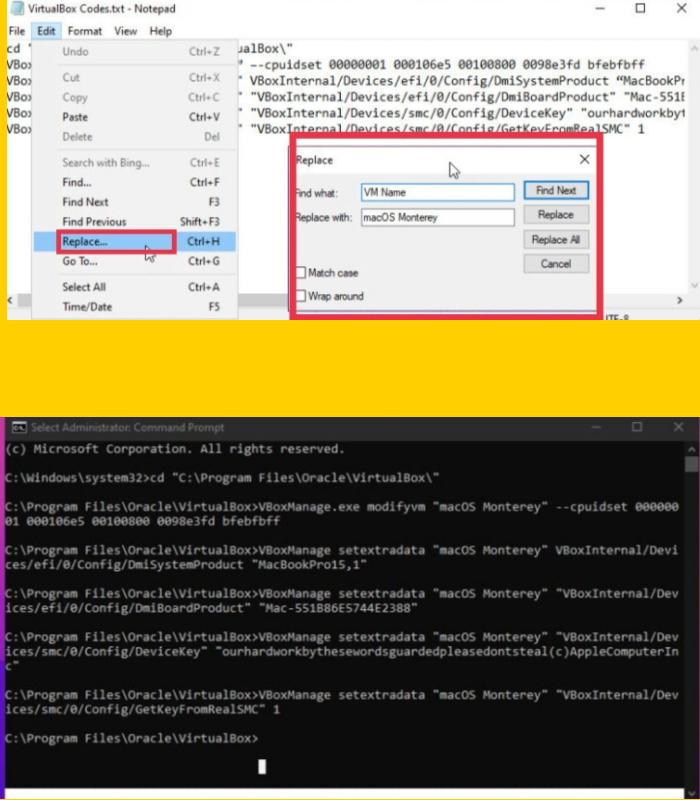 5. Performing macOS Monterey clean Installation
This is the final step to install macOS Monterey on VirtualBox on Windows 10 PC & laptop after completing all the four steps above. Now it is time to do a clean install of macOS Monterey on VirtualBox on your Windows 10 computer. So let's start the installation process. Follow the below steps:
Open the VirtualBox and start the Virtual machine of macOS Monterey. After that, a bunch of codes will appear on the screen and finally, you will be on the Apple logo.
Next, you need to choose your language.
Before installing the macOS Monterey (macOS 12) on the VM, you need to partition the Storage. For that, you need to go to the Disk Utility and click continue.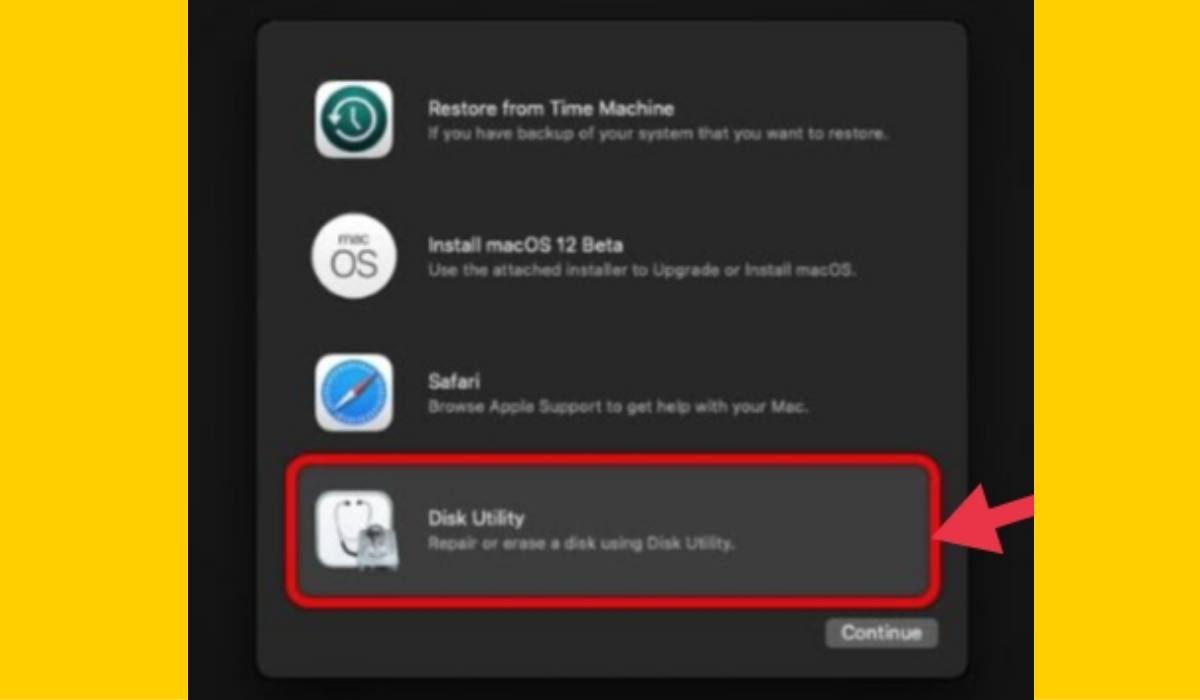 Now, you need to choose the storage when you created the Virtual machine. then click erase and partition it so that the macOS Monterey should be installed in it.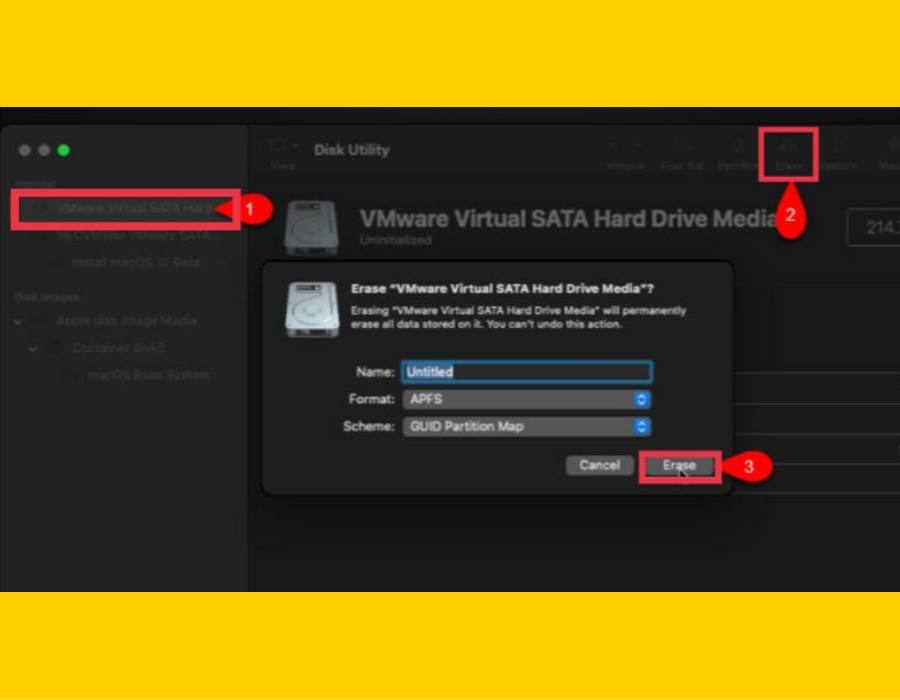 Next, Quit the Disk Utility, and in the main menu select the Install macOS 12 Beta and tap on continue.
Now, you need to agree to the terms and conditions and select the disk so the macOS Monterey can be installed.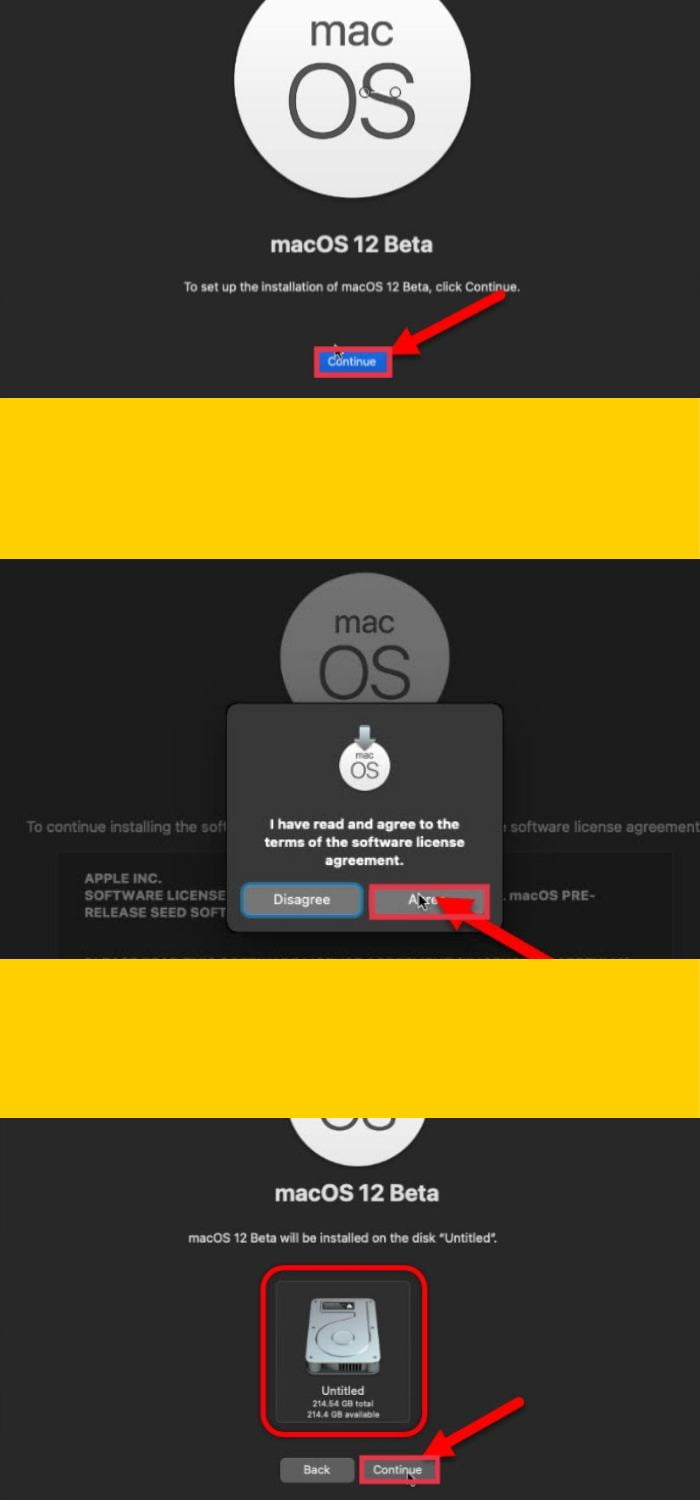 Based on the Country you are living, choose it so the country input keyboard should be added by default. I have chosen the United States of America, and the OS has inserted the U.S input sources. Tap on 'Continue' twice.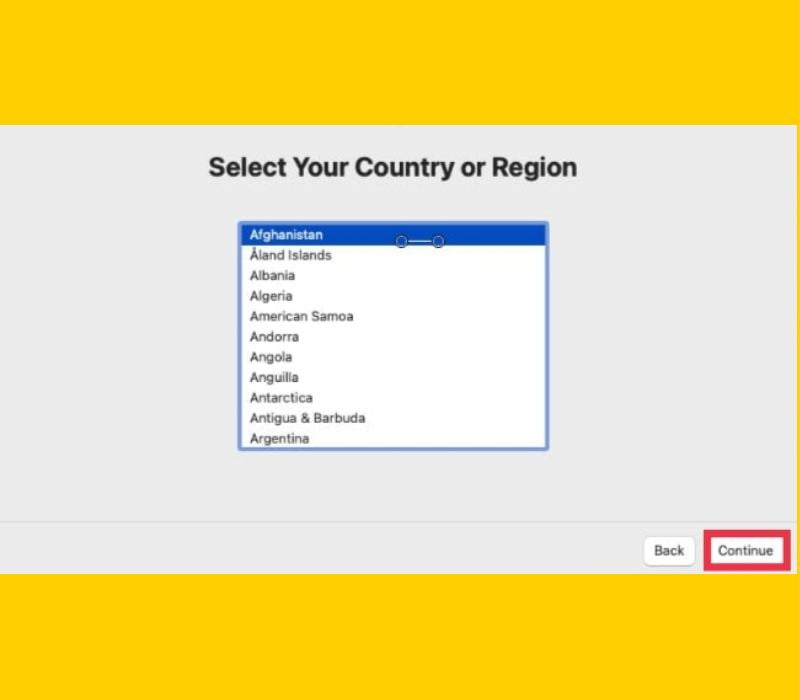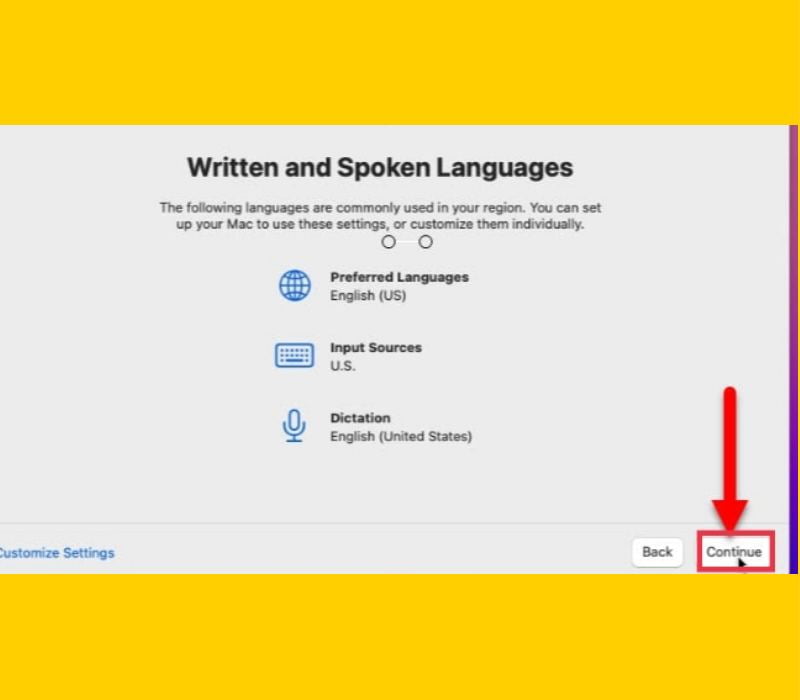 I will not go for Accessibility, So, I will pass this step by clicking Not Now.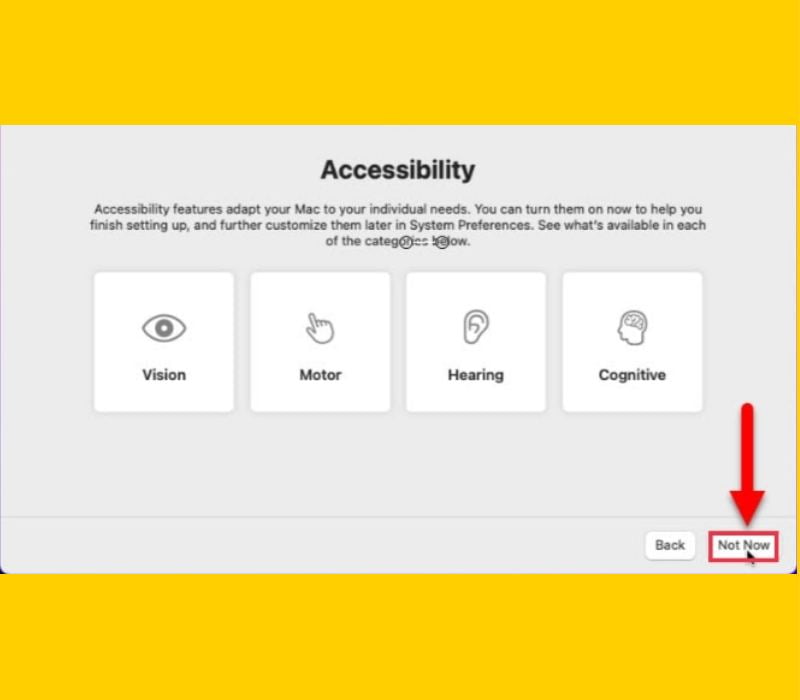 Select 'My computer doesn't connect to the internet'. Since it is a Virtual Machine Wifi does not work, ethernet is not working either because of the Virtual machine. Don't worry, the internet is working on this type of mac. Tap on 'Continue' to proceed.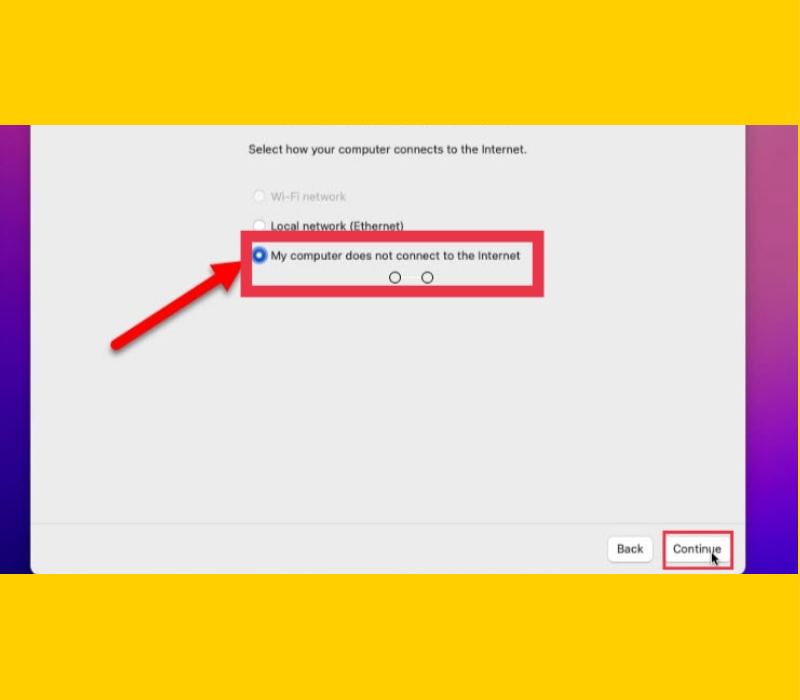 Ignore the alert and continue.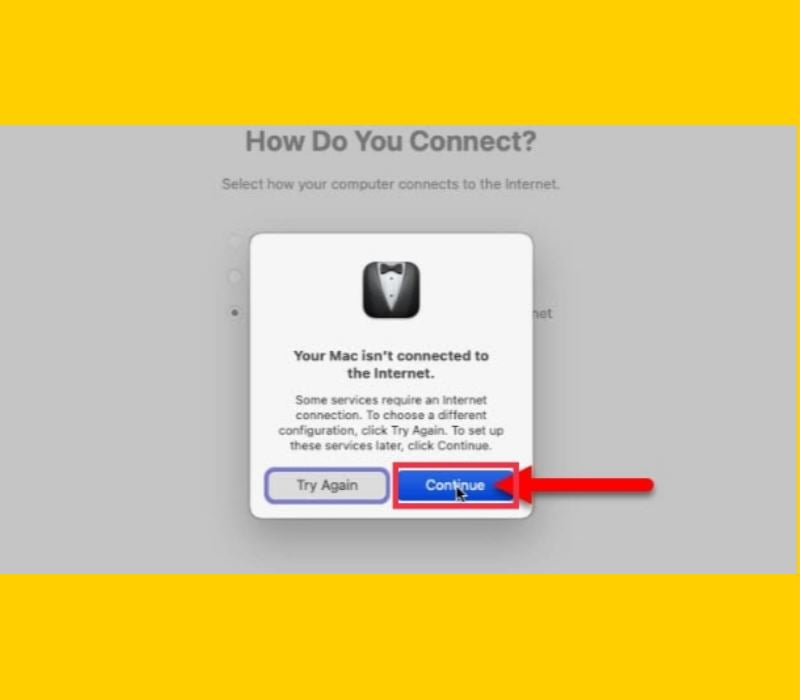 Tap on 'Continue' with data and privacy.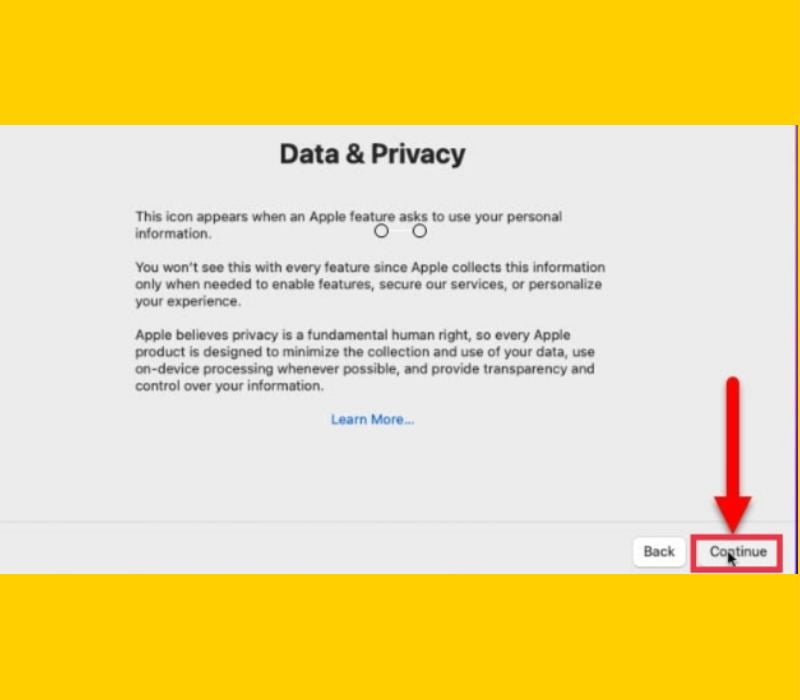 Apple has provided the Migration Assistant for users who are migrating from another Mac, Windows PC. In simple words, you can transfer your files here. Since we are performing a clean installation, there is no need to configure it, So click on 'Not Now'.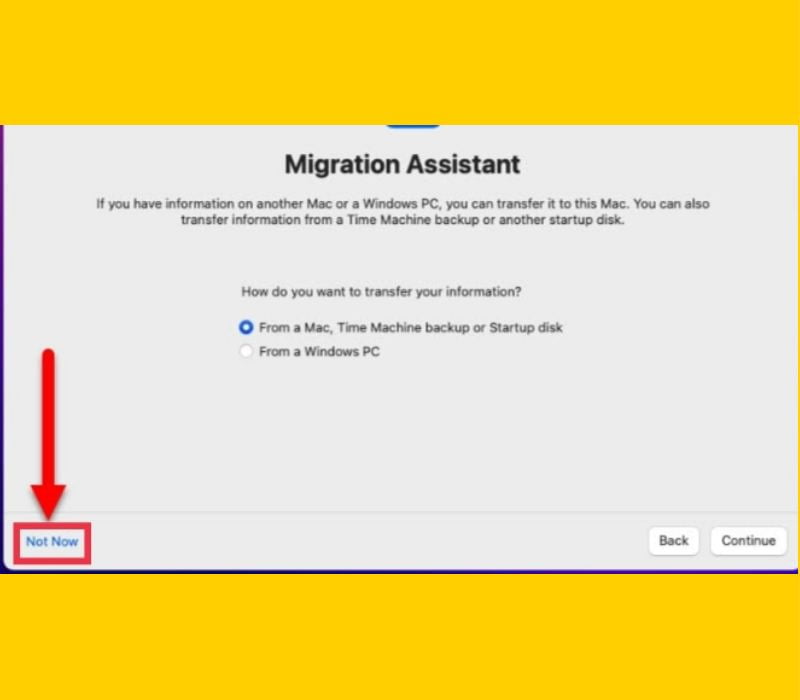 You have to read and agree to the macOS Monterey's Terms and regarding the license.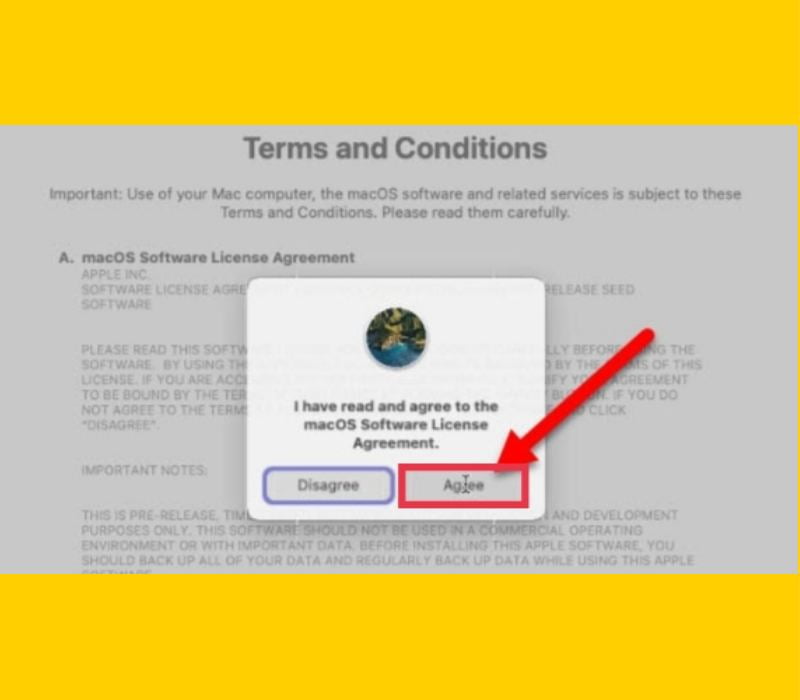 You need to create an account for your Virtual machine computer, and tap on 'Continue'.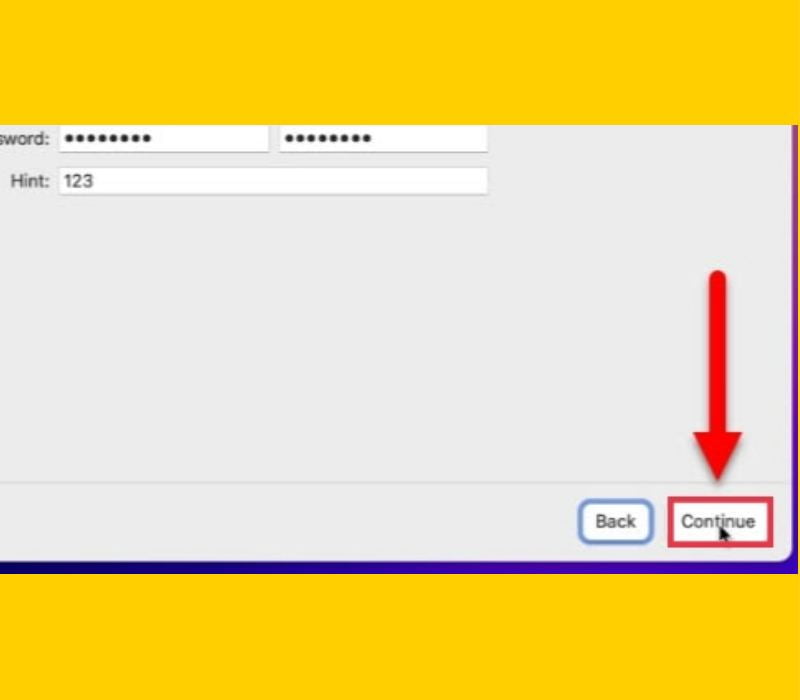 Apple is showing you that they have already enabled the location services, along with the device analytics. You can turn them off if you are concerned about security and privacy. Click on 'Continue'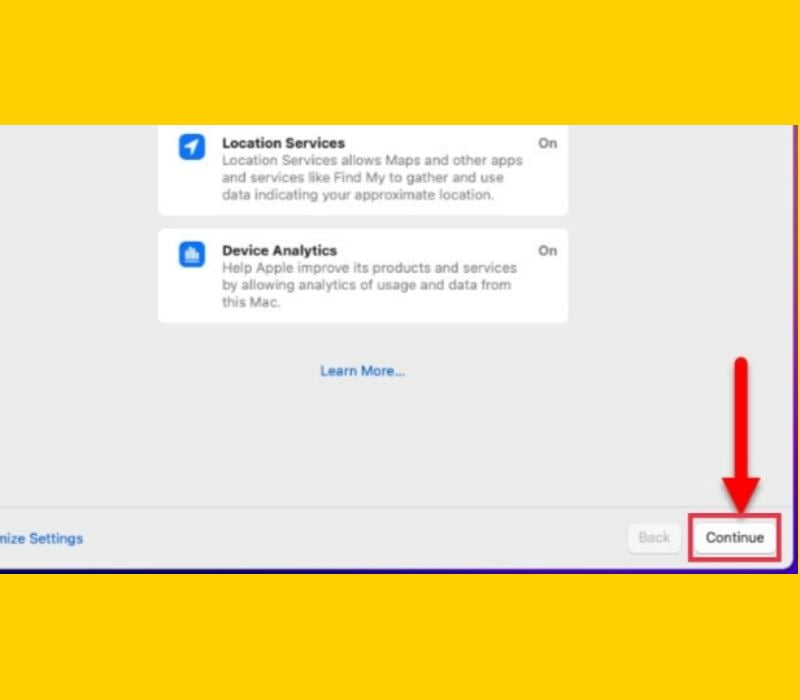 If you want to monitor you weekly, downtime, content, and privacy restriction, you can enable the Screen Time. Screen Time is actually is good if you are looking to monitor your work.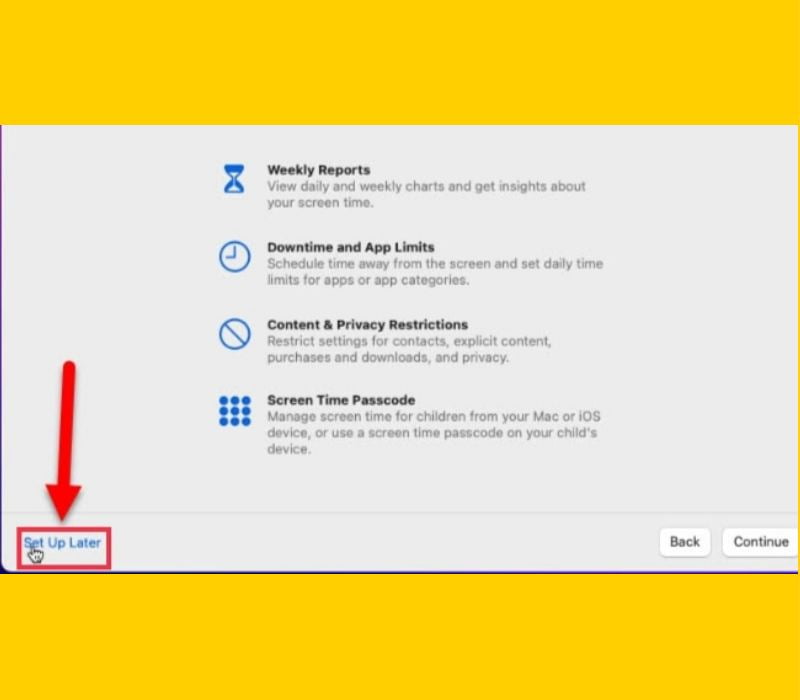 The voice assistant is another feature for you to decide to enable it or not. Since these days many users are using the voice assistant, you should give Siri a try too. Tap on 'Continue' to add Siri.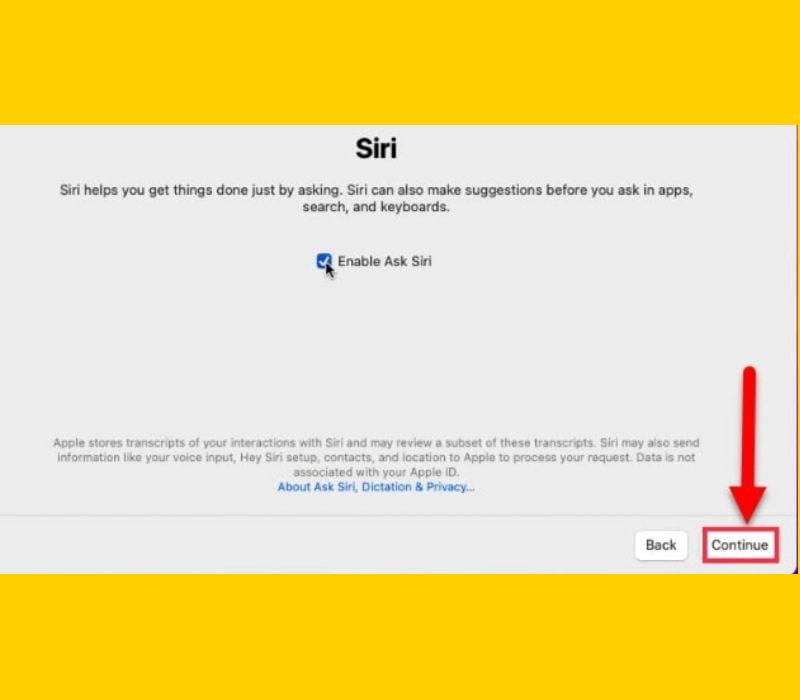 Finally, Choose Your desired Look at the macOS Monterey (macOS 12) and tap on 'Continue'.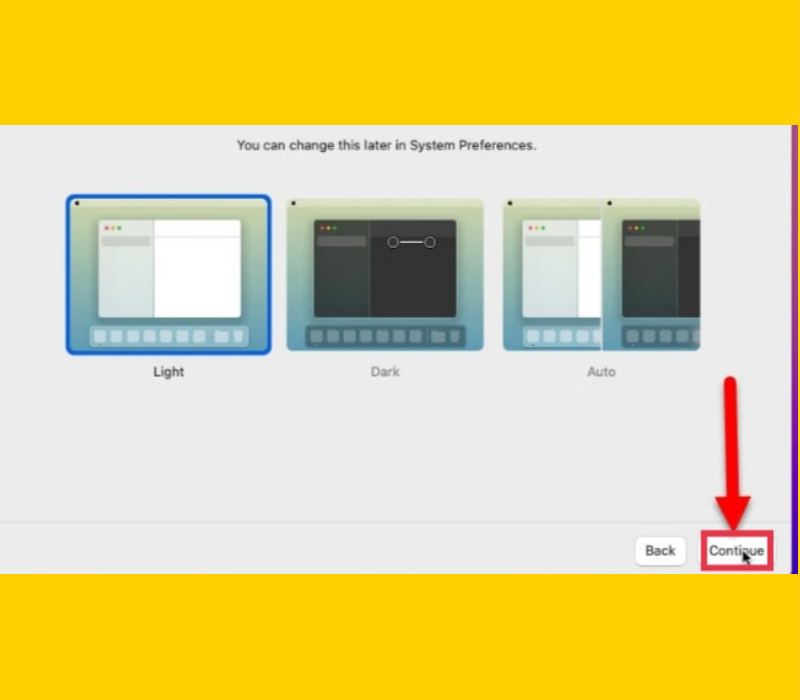 Final Words
That's is how you can Install macOS Monterey on VirtualBox on Windows 10 PC and laptop easily and with step-by-step instructions. If you have any kind of questions or encounter any kind of problem, please let me know in the comment section. Good Luck!
---
Read also:
How to Hide the Desktop Icons on macOS Big Sur
How to Create a Bootable USB Installer for macOS Catalina on Windows 10