If you want to create multiple independent guest computers, each running their own operating system without the need for additional physical hardware or support, then you need to know how to install and use VirtualBox. This is great software for system admins and power users who want to run multiple guest OSs without the need to add new devices. In this guide, we will show you how to download and install VirtualBox on a Windows 11 PC and also install the VirtualBox Extension Pack to extend its functionality.
What is VirtualBox?
VirtualBox is an x64 virtualization software or hosted hypervisor that enables experienced system administrators or power users to set up separate virtual machines on a single physical computer at the same time.
This program enables you to construct virtual machines of this kind. You can build a computer with 4 GB of RAM, an 80 GB hard drive, and so on. This is a virtual computer known as a "guest machine" that operates on your real physical computer, known as a "host machine," by utilizing the host machine's resources. After that, you can continue to install an operating system, such as Ubuntu, on this guest computer.
Once installed, you can use the operating system, install apps, access the internet, execute programs, and so on as if it were a real computer. In fact, if you run it in full-screen mode, you won't even notice that you're running one operating system within another.
---
Download VirtualBox for Windows 11
Hardware Visualization must be enabled on the host machine for VirtualBox virtualization to work. Most computers today will have this feature. However, it might be disabled in the BIOS. You may have to reboot into the system BIOS and enable Virtualization Technology (VTx) in the system BIOS settings.
Once you enable hardware virtualization, log back into Windows and go to the link below to download the latest copy of VirtualBox software for Windows.
-> Download VirtualBox for Windows
Under "VirtualBox platform packages," click on "Windows hosts" to download VirtualBox for Windows. If you are using another operating system, you can download another one!

---
Install VirtualBox on a Windows 11 PC
Once you've downloaded VirtualBox on your Windows PC or laptop, you can proceed to install it on your Windows 11 computer. For that, follow the below steps:
Note: You can also follow the same steps to download and install VirtualBox on Windows 10.
Step 1. To get started, find the VirtualBox installer and simply double-click on it to run it.

Step 2. When you run the installer, an installation wizard will appear. To begin the setup process, click "Next" on the Welcome setup wizard screen.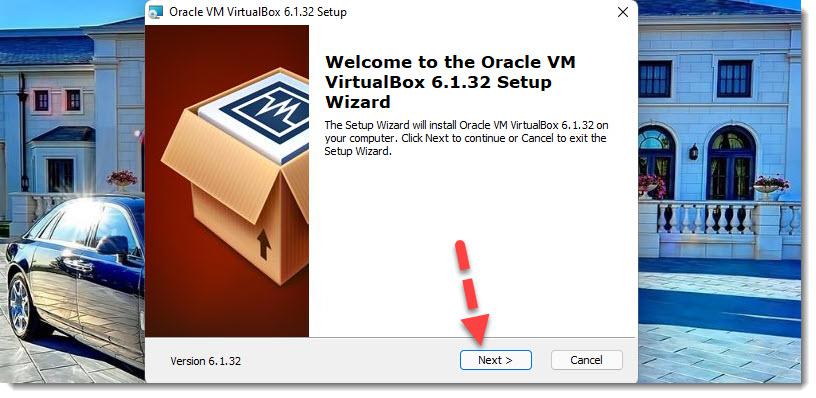 Step 3. On the custom setup page, you can select the way you want features to be installed. Here, leave everything as is and click "Next."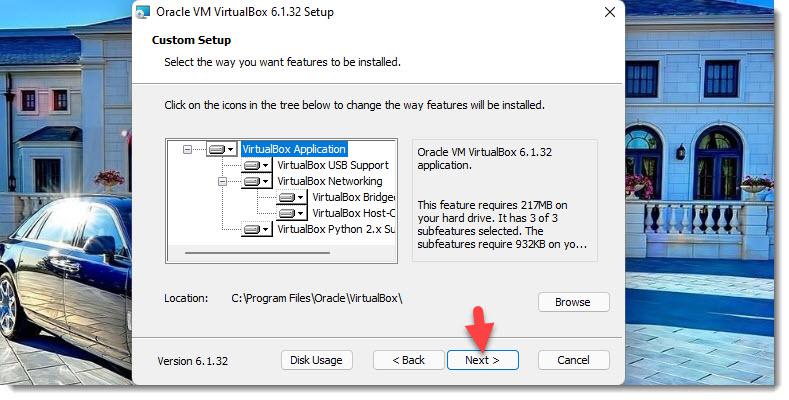 Step 4. On the next page, you'll be presented with some options. This will add shortcuts to your desktop, as well as menu items and other features. Choose any option you prefer and click "Next" to continue.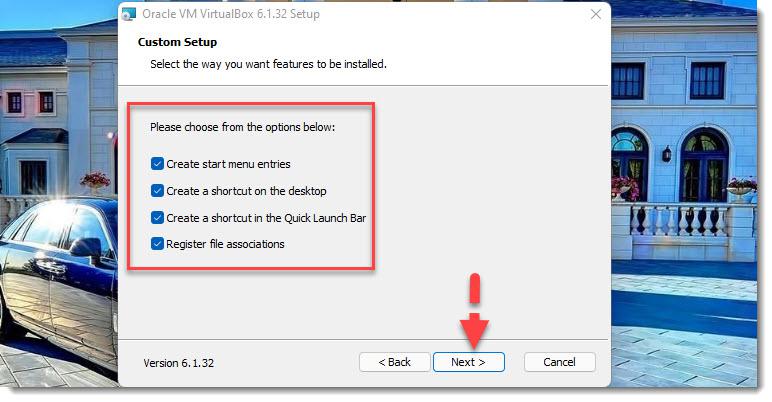 Step 5. On the next page, when prompted to install VirtualBox networking features, choose "Yes."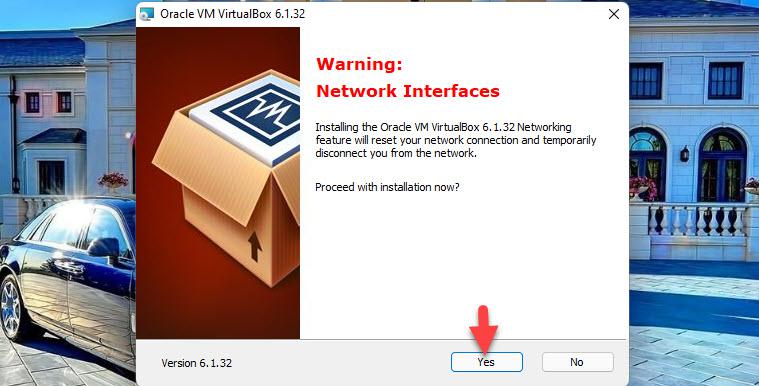 Step 6. Now if you are ready to install VirtualBox on your Windows 11 computer, click on the "Install" button.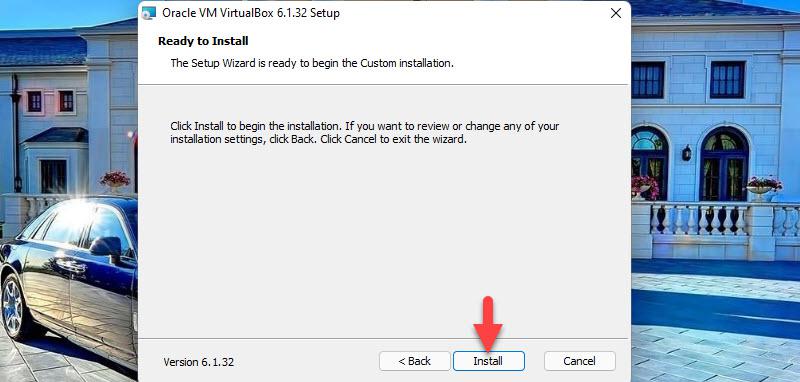 Step 7. During the installation, a popup window will open. It asks you whether you want to install the Oracle corporation universal serial or not. Click "Install" if you want to install it.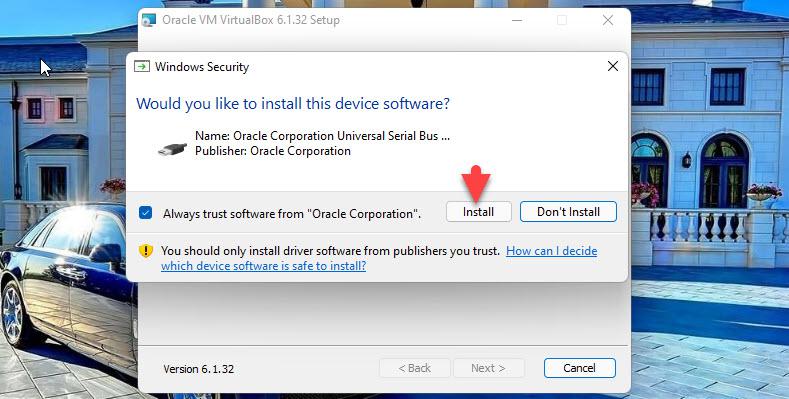 Step 8. Finally, click "Finish" to complete the installation. If the "Start Oracle VM VirtualBox" check box is selected, VirtualBox will open when you click Finish.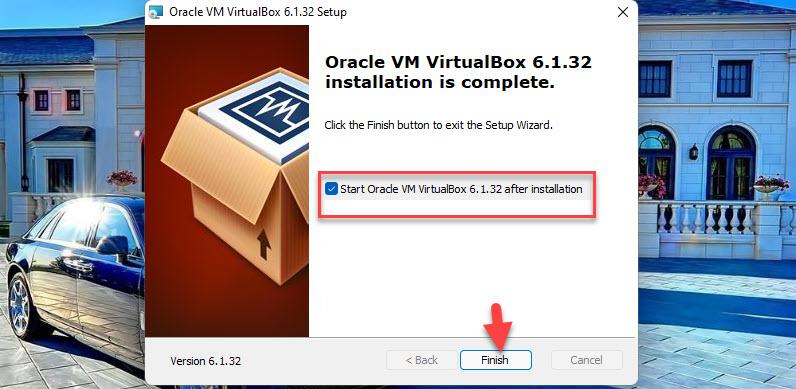 VirtualBox will open up and be ready to be used. You can start creating virtual machines at this moment. You can create a new machine to install Windows, macOS, or Linux, and to know how, go to the guide listed below:
---
How to Install the VirtualBox Extension Pack
After installing VirtualBox as mentioned above, you'll want to install the extension pack for VirtualBox. The VirtualBox extension pack expands the capabilities of the basic software. It adds the following features to VirtualBox:
Support for USB 2.0 and USB 3.0 devices.
Experimental support for PCI passthrough on Linux hosts.
Disk image encryption with the AES algorithm.
VirtualBox Remote Desktop Protocol (VRDP) support.
Host webcam passthrough.
Intel PXE boot ROM.
Cloud integration features.
To download and install the VirtualBox Extention Pack, follow the below steps:
Step 1. Download the extension pack from the same download page.
Step 2. Now, under VirtualBox Oracle VM VirtualBox Extension Pack, click on the "All supported platforms" link to download it.

Step 3. Next, open the VirtualBox and, from the menu, click "File" and select "Preferences."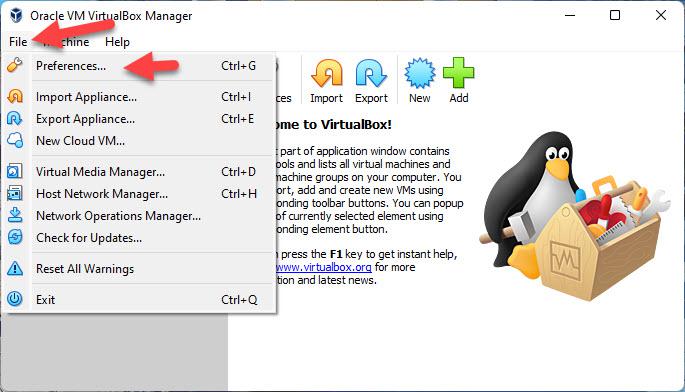 Step 4. Then, select "Extensions" from the left pane, and click on the "+" sign in the top right corner.
Step 5. Select the file you downloaded, and click on the "Install" button.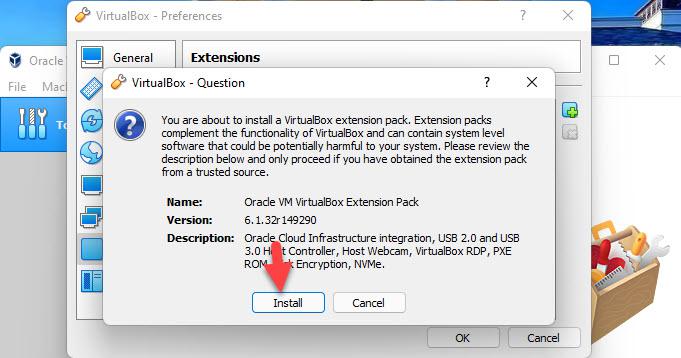 Step 6. Finally, click "I Agree" to the VirtualBox license, and the installation will start.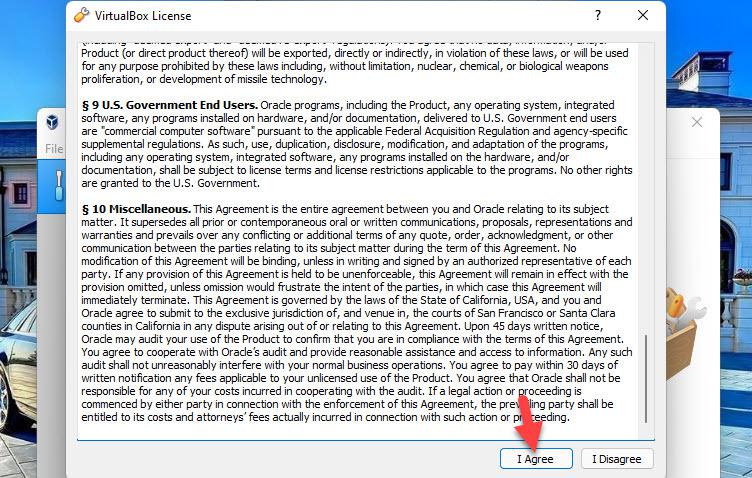 That's it! You finally have the extension pack ready for your VirtualBox.
---
Final Words
That's all! This is how you can download and install VirtualBox on a Windows 11 PC or laptop. Also, we showed you how to install the VirtualBox extensions pack to extend its functionalities. By following the above-mentioned steps, you can have VirtualBox ready on your laptop and desktop, and install another operating system beside the one on your system. Lastly, if you encounter any errors or have anything to add, please use the comments section below to share them with us. Good Luck!
---
Read also: