I bet you use your iPhone or iPad as a keyboard to type something on Apple TV. This feature is implemented through push notifications, which will be displayed every time Apple TV waits for keyboard input. If you don't like or don't want this notification to appear on your device screen, then follow the instructions below to get rid of it.
In this article, I'll show you how to disable or turn off the Apple TV Keyboard Notification on iPhone and iPad, and also you'll learn about two other ways which you can use to type text on your Apple TV.
Also read: How to Stop Notifications from Turning on your iPhone Screen
Disable the Apple TV Keyboard Notification on your iPhone or iPad
Apple TV keyboard notifications only appear on devices associated with the same Apple ID that you use on your Apple TV. It will be displayed on your iPhone or iPad at the same time. It can be a little overwhelming if both devices are in the same room.
One solution is to disable it on a specific device (such as an iPad) and leaving it enabled on the iPhone at the same time. If you still use the iPod Touch, you can also use it.
To turn off the Apple TV keyboard notification on iPhone and iPad, follow the below steps:
Go to the Settings app on the device and select "Notifications."
From here, scroll down and find "Apple TV Keyboard" in the list. Click on it.
You can now customize how you want the notification to be displayed.
To disable or turn it off entirely, uncheck "Allow Notifications." You won't see the notification on this particular device again.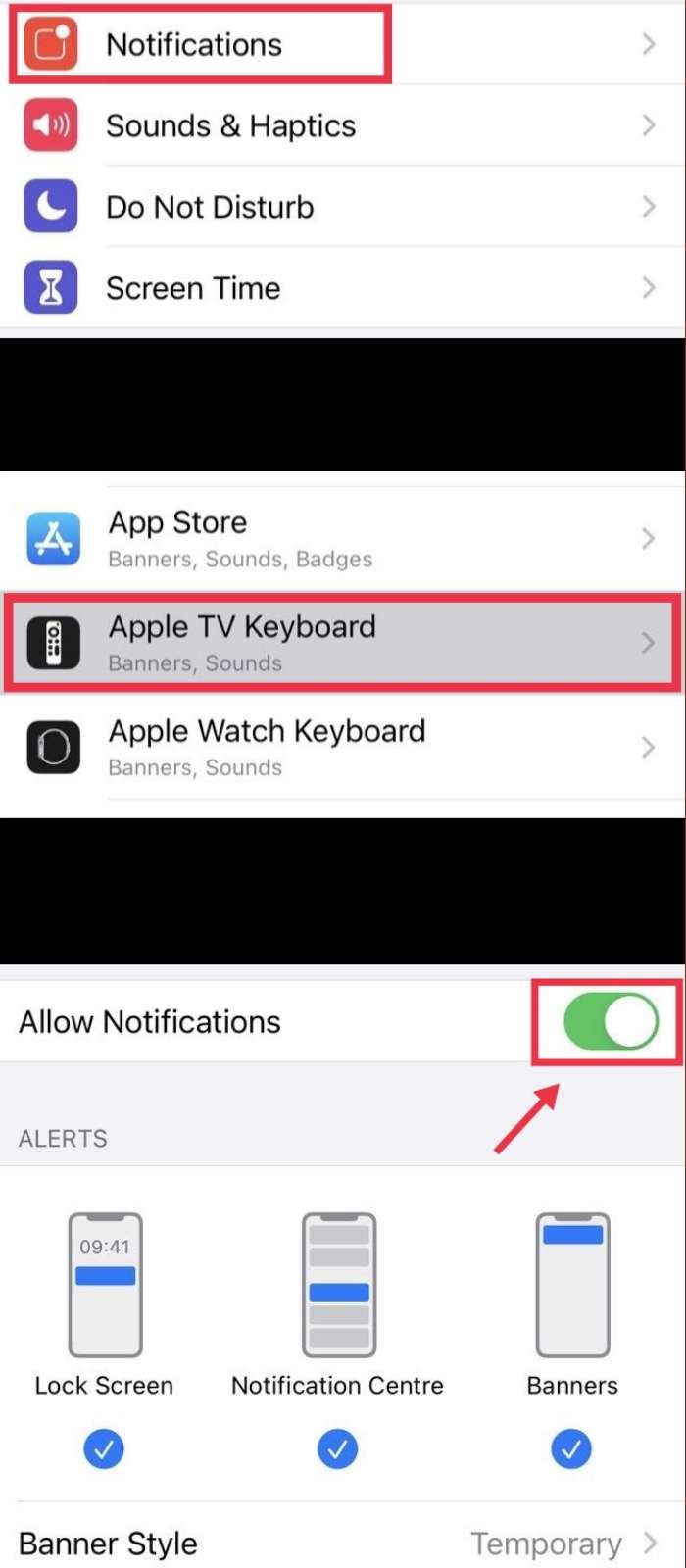 A better option is to disable the "banner" so that notifications do not appear at the top of the screen, but can still be accessed from the lock screen or notification center. Remember, once Apple TV no longer accepts keyboard input, the notification will automatically clear, so you don't need to manually turn it off.
If you ever want to enable or turn on the Apple TV keyboard notification on your iPad or iPhone again, you'll need to go to Settings>Notifications>Apple TV Keyboard, and turn on the 'Allow Notifications' options. After that, you are ready to go.
Two Other Ways for Entering Text on an Apple TV instead of using your iPhone or iPad
Compared with typing your text letter by letter with the Apple TV remote, the experience of typing text on Apple TV with iPhone or iPad is much superior than that. But don't forget that there are some other solutions as well. Read below:
Using the Siri option in remote control: It has a microphone, which is perfect for text input. You can press and hold the Siri button, which looks like a microphone, and use it wherever you see a text entry field on your Apple TV. Hold down the button you want to say and release it to complete. Siri translates everything you say into written text. The latest voice commands aren't perfect but it is pretty good as well.
Using Bluetooth keyboard: If you are looking for other solutions, remember that you can pair almost any Bluetooth keyboard with Apple TV, experience full keyboard input. This is the same process as pairing an Xbox controller or PS4 controller with an AppleTV.
Final Words
This is how you can disable or turn off the Apple TV keyboard notification on iPhone and iPad, and also some other options that you can use instead of iPhone or iPad for entering your text in on an Apple TV. Good Luck!
---
Read more: