Reddit is a website where people can exchange news, memes, and conduct conversations about practically any topic. Reddit is a community network built on people's interests. If you're a huge Reddit fan, I'm sure you have the app on your phone. If you wish to use Reddit on your PC, this instruction is for you. This Techschumz guide will show you how to easily download and install the Reddit app on a Windows 11 PC or laptop.
What is Reddit?
You've undoubtedly heard of Reddit if you spend a lot of time online. The website advertises itself as the "first page of the internet," and this is no exaggeration. So, what exactly is Reddit? It's simply a large collection of forums where people can trade news and information and comment on other people's articles. People use Reddit to keep up with the latest news and to interact with others who share their interests. Whether it's something you found online or a hobby from your own life, Reddit will have a place for it.
Reddit is distinct from other online social media networks in that not all participation encourages content. You can upvote a post or comment that you think adds value to the site, which will help it climb to the top of the page for everyone else. Downvoting a post or comment makes it less prominent in the community feed.
Reddit features hundreds of communities that are subdivided into channels called subreddits, each of which focuses on a distinct topic. You can subscribe to as many subreddits as you like, or you can create your own and form an online community. In addition to the platform-wide regulations that apply to everything on the site, each community may impose its own restrictions, and each subreddit has its own team of volunteer moderators picked from the community. They help to keep the subreddit secure by prohibiting harassment, spam, and other submissions and comments that do not benefit the community.
---
Two Ways to Install the Reddit app on a Windows 11 PC
You can get the Official Reddit app from the Microsoft Store or install it as a PWA using Microsoft Edge. The complete steps for installing and using Reddit on Windows 11 using both methods are provided below.
---
Method 1. Get Reddit from the Microsoft Store on Windows 11
The Reddit app for PC can be downloaded and installed through the Microsoft Store. Learn how to install it on your Windows 11 PC by following the below steps:
To begin, go to the Start Menu and type "Microsoft Store," then select it from the search results.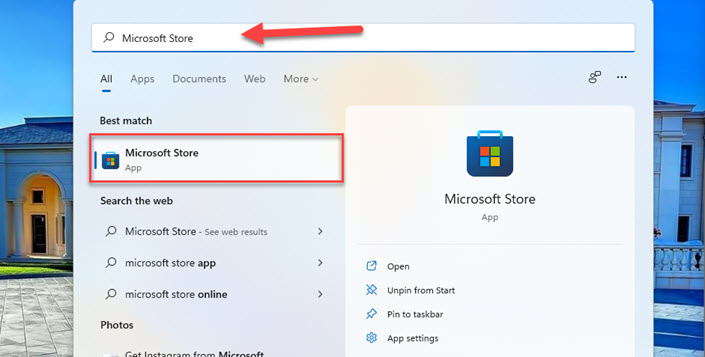 Search for "Reddit" on the Microsoft Store and choose it from the results.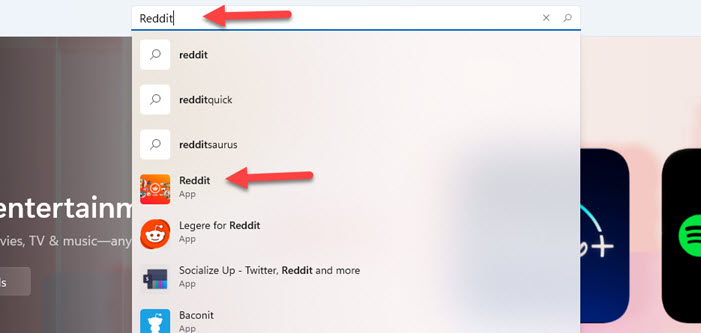 Now to download and install Reddit, click the "Get" button.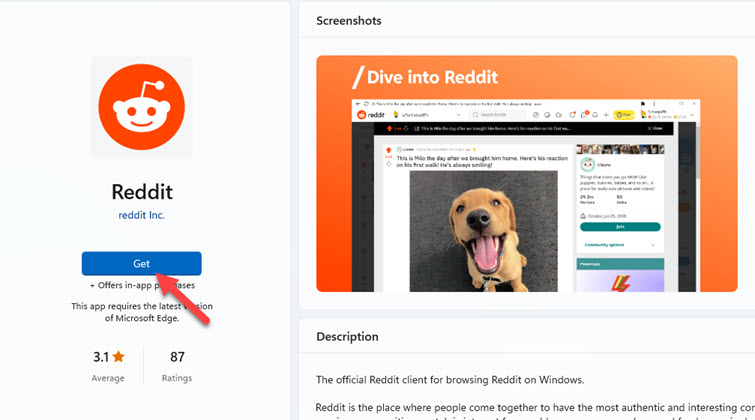 After it's installed, click "Open" to launch the Reddit app and use it.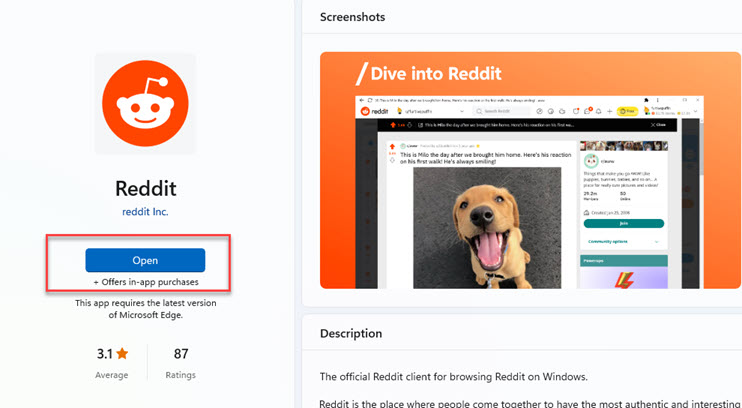 ---
Method 2. Install Reddit using Microsoft Edge on Windows 11
As a Progressive Web App, Reddit can be added to the Microsoft Edge browser for easy access. Here are the steps you need to take to get the job done:
To open the Edge browser, type "Edge" into the Start Menu search box.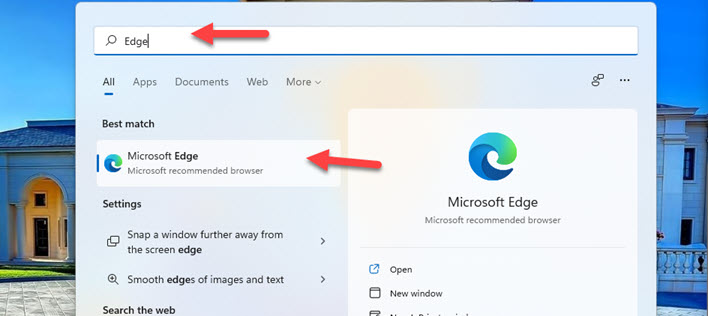 Visit reddit.com, the official Reddit website, in your browser.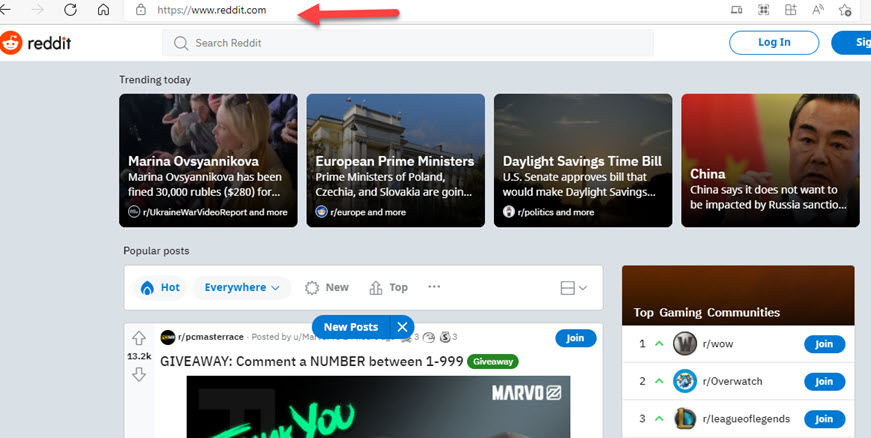 Next, click the three-dot menu in the top right corner of your Edge Browser and, go to "Apps", and select "Install Reddit."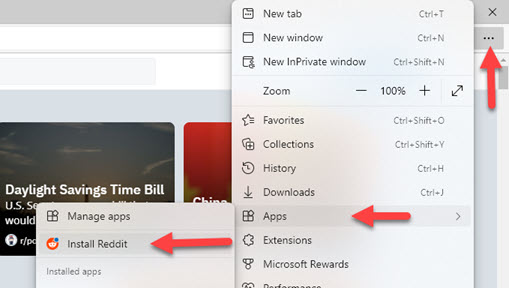 Now, simply click "Install" to begin the installation process.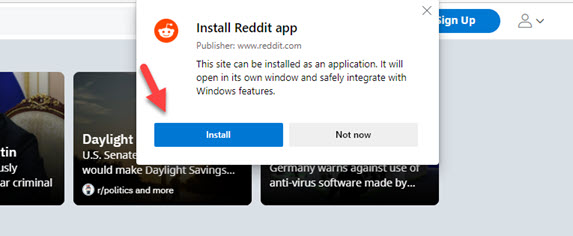 Now, you can create a shortcut to Reddit on your desktop, pin it to the taskbar, or pin it to the Start menu. To do that, check any option box and click "Allow" button to continue.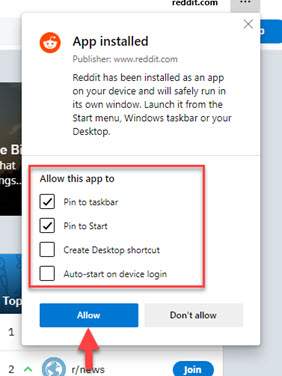 That is all there is to it! The Reddit app has been installed on your Windows 11 PC and laptop. Now, sign up or sing and start using it!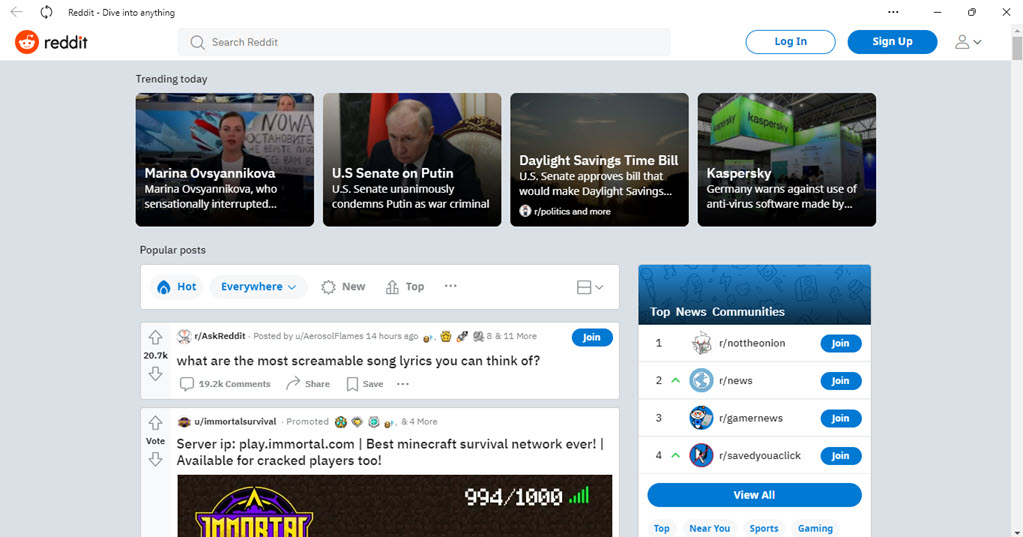 ---
How to Use Reddit on Windows 11
Open the Reddit app by searching for it in the Start Menu.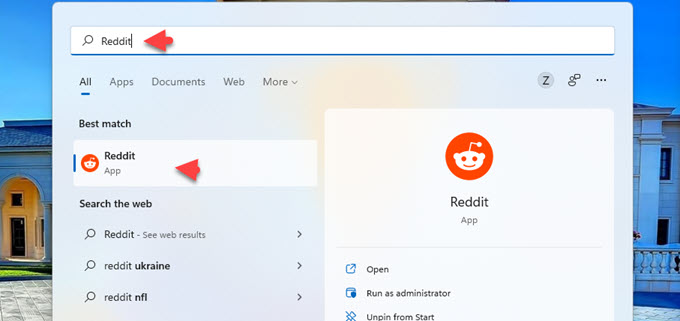 Next, to use the Reddit app on your Windows 11 PC, you need to have an account. To create an account, click "Sign Up".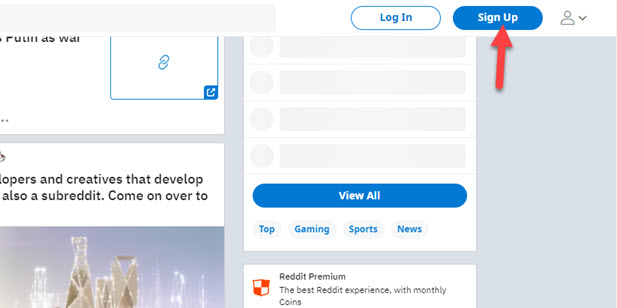 Now, a new window will open. You can either continue with your Google Account and your Apple account or input to your email. Type in your email and click "Continue".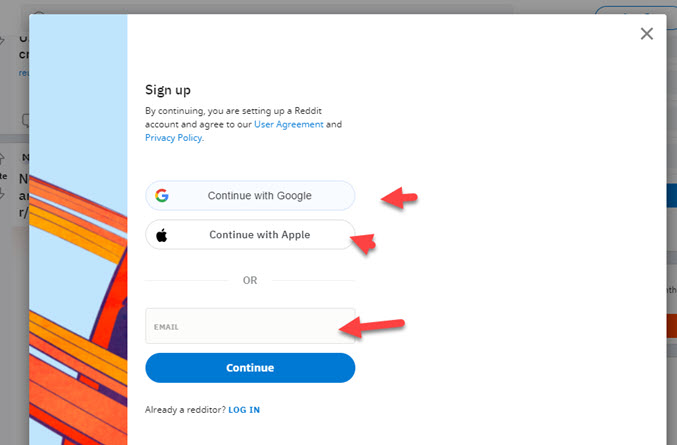 Next, type a username and a password and click "Sign Up".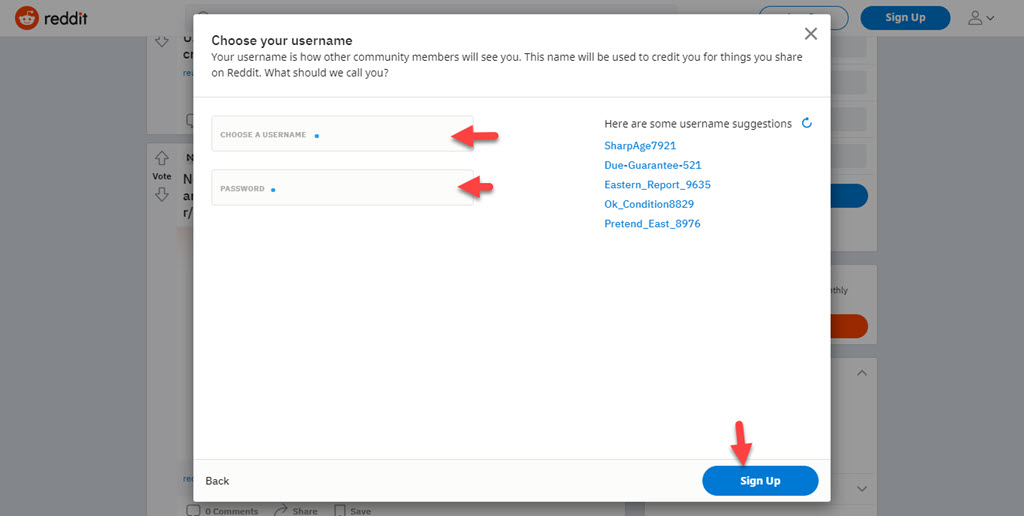 Select your gender preferences and click "Continue."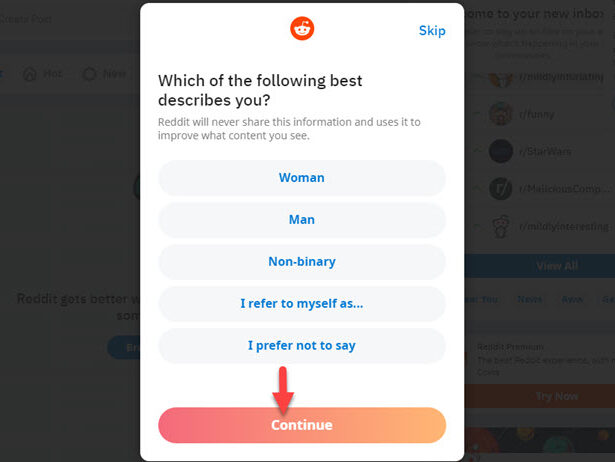 Select the topics that you are interested in, and click "Continue."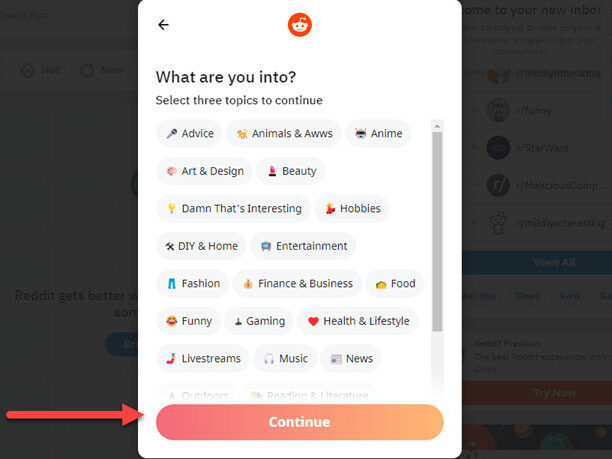 Now Reddit will recommend some communities to you. Join any of them you want and click "Continue."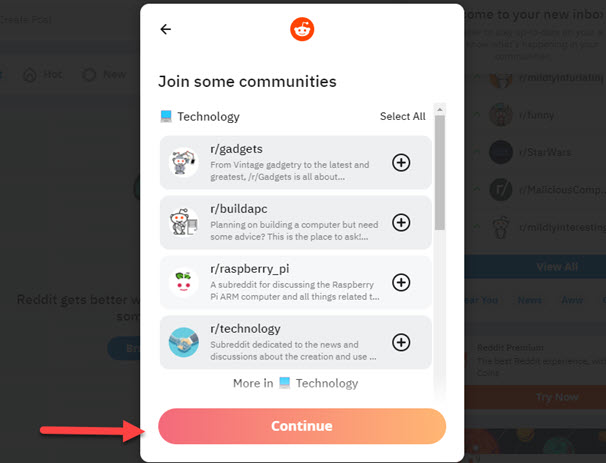 Select an avatar for your Reddit profile by clicking "Randamize." When done, select "Continue."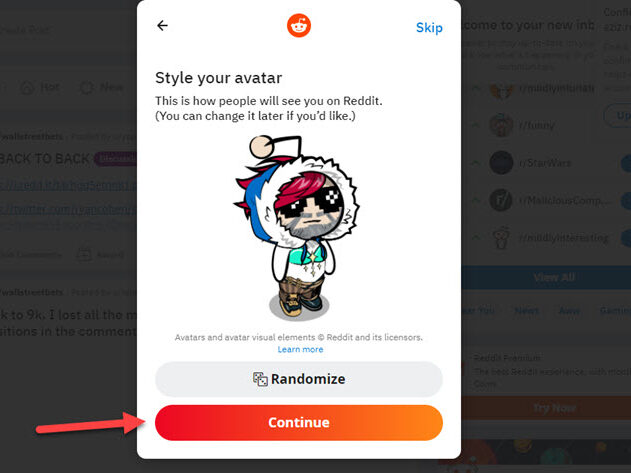 That's it! Now you can start using Reddit to read about your favorite topics, comments, and submit your own.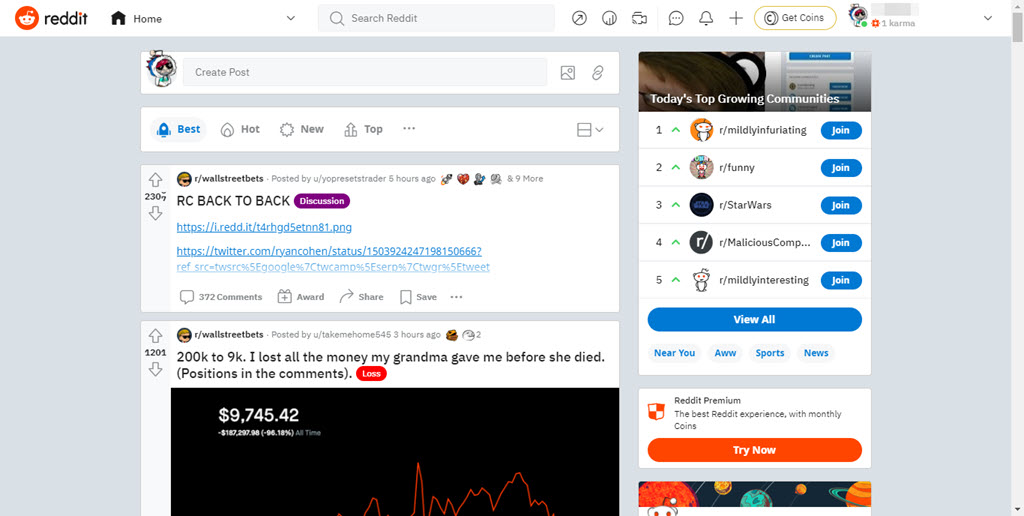 ---
How to Update the Reddit App on Windows 11
The Reddit app can easily be updated through the Microsoft Store. We recommend that you always use the most current version of the Reddit app on your desktop. The most recent versions have the most up-to-date features and bug fixes.
To update the Reddit app using the Microsoft Store, open the Microsoft Store and select "Library" from the bottom-left corner. Then, to update your Reddit app, choose "Get updates" and then "Update."
---
How to Uninstall the Reddit App on Windows 11
If you no longer wish to use Reddit for any reason, just remove it from your PC. Here's how to do that.
Open the Settings app by searching for it in the Start Menu.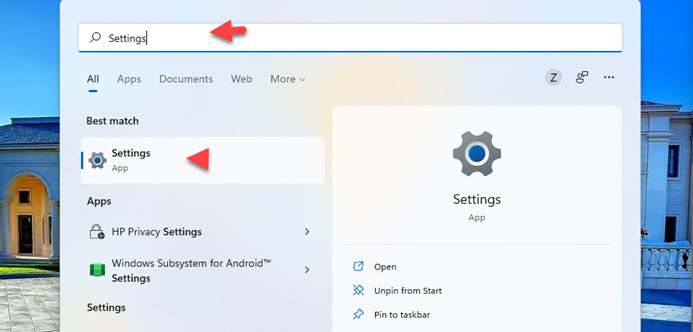 Click on "Apps" on the left pane, and select "Apps & Features" from the pane of your screen.

In the list of apps, look for "Reddit," click on the three-dots menu in front of it, and then click "Uninstall" to completely remove it from your Windows device.

Select "Uninstall" to confirm the deletion.

---
FAQs
Q. How can I submit to Reddit and comment and vote on other people's posts?
Reddit is an open forum where anybody can sign up, post, and read anything they want. Registered users can make submissions to any of the public subreddits. On the other hand, commenting on other people's entries is as easy as clicking on the open comment box directly underneath the submission, and you can even react to other users' remarks by hitting the reply button. Finally, registered users can vote up or down on each post.
Q. How do upvotes and downvotes affect karma?
People's upvotes and downvotes on your posts and comments are added to your "karma." The more karma you have, the more respected you are in the community. Reddit karma, on the other hand, cannot be redeemed, and there are no awards or benefits for earning a particular quantity of it. It's just a score that indicates how active you are on the website.
Q. Why am I banned from Reddit?
If you spam or attempt to use Reddit to spread hate and animosity, you could be banned from the site, and you will not be able to participate in the discussions. Once you've been put on the blacklist, you're done. It's always a good idea to be attentive and to follow the regulations. If you're nice and follow the rules of each subreddit, you've got nothing to worry about.
Q. Why did I get banned from a subreddit?
If you don't abide by the rules, you may be banned by the moderators of a subreddit. There are certain moderators that are stricter than others, but if you don't adhere to the rules on a frequent basis, you will be banned.
Q. Is Reddit app available on smartphones?
Yes. The official Reddit app is available for both Android and iOS. In fact, the experience is much enhanced while using the applications on both smartphones and tablets.
---
Conclusion
That's all! Using one of these two methods, you should now be able to download and install the Reddit app on a Windows 11 PC or laptop. Although both methods are simple, we recommend downloading the Reddit app via the Microsoft Store. Finally, please leave any questions you have in the comments section below.
---
Read also: