Windows provides a way to clean up some junk files using the "Settings" application, but if you want to rest completely, restarting your PC is a feasible method. With the arrival of Windows 11, it may make sense to perform a factory reset after installing the update. Or maybe you just want to know how to do it later. To help you, in this Guide, we will show you 2 quick and easy methods to reset your Windows 11 PC to its factory settings.
Moreover, your computer will accumulate junk files, taking up valuable storage space and slowing down your computer. This is how computers work, the more you use them, the more files you have. If the installation process does not go as expected, the updates and applications that you install will also cause some problems.
2 Easy Methods to Reset your Windows 11 PC
Before we begin, itis important to know that resetting your Windows 11 PC will remove all installed programs. If you wish, you can also delete your personal files. Before performing this operation, make sure that all data has been backed up. If you have enough space, you can put your files on cloud services such as OneDrive or use an external USB storage device.
Additionally, you also need to connect your PC to the outlet to reset it. This is because if the PC freezes during this process, it can cause serious problems and force you to repair it. Otherwise, the PC restart process is easier than you initially thought. Also, this guide applies to Windows 10, which has a similar process. This is how you do it:
Method 1: Reset your Windows 11 Computer Using Settings
Microsoft added a new method of resetting Windows in 2020, allowing you to use cloud downloads. Basically, you download a new copy of Windows and install it. This method is useful if you are facing serious problems.
To reset Windows 11 Using Settings, follow the below steps:
First, tap on the Start Menu icon and go to the Settings app.
Now, go to Update & Security > Recovery.
Next, you will see an option labeled as Reset this PC in the recovery tab. Click on the Reset PC button.
Now, you can choose either to keep your files on the PC or erase everything. Choose your preferred option to continue.
Then, select from Cloud download, which will download a fresh copy of Windows and installs it, or select Local reinstall that resets the PC locally.
Finally, a screen will appear showing your preferred reset options and a final prompt. Tap on Reset to start the process.
Windows will begin the reset process.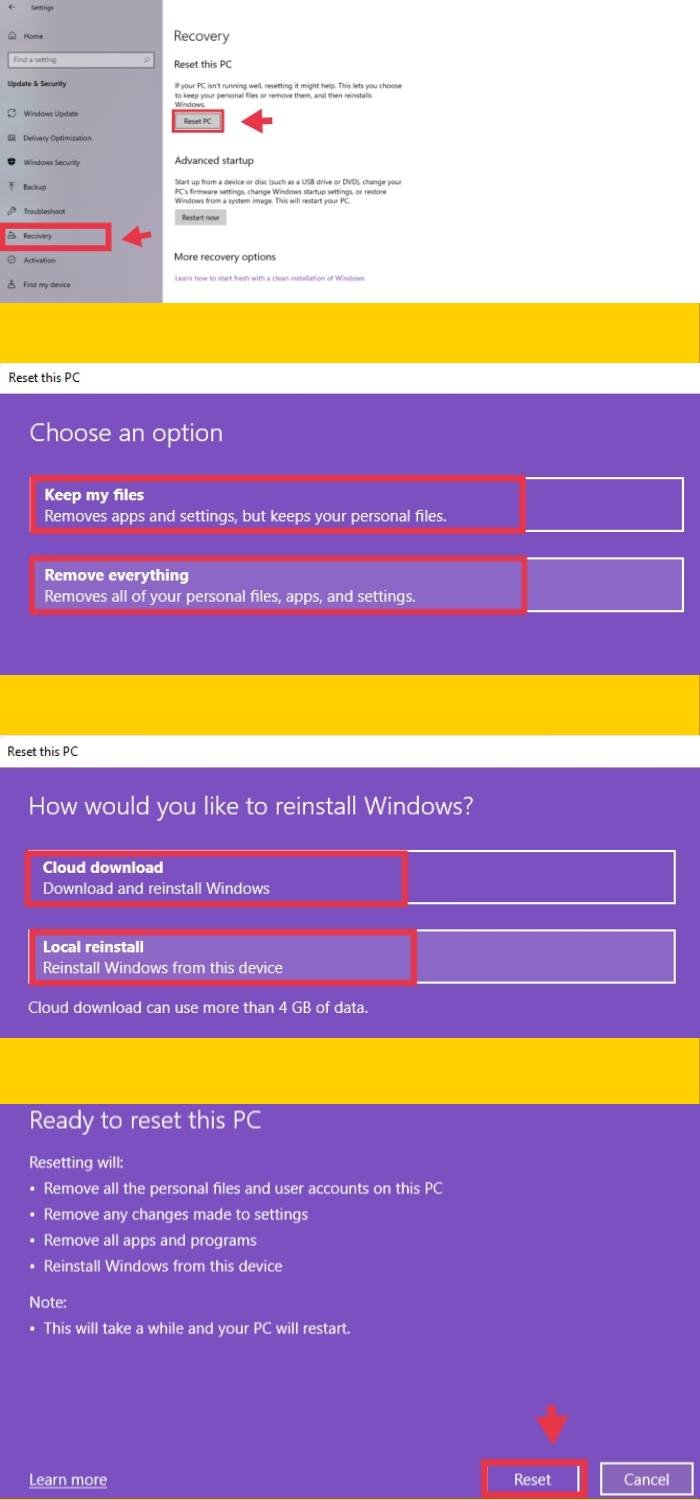 Method 2: Reset Your Windows 11 Computer Using CMD
First, press Windows key + S on your keyboard, type cmd, then select Run as administrator.
Now, in the cmd window, type the following command, then press the Enter button: systemreset -factoryreset.
Next, you will see the traditional reset window on your screen.
Finally, follow the on-screen instructions to reset your PC.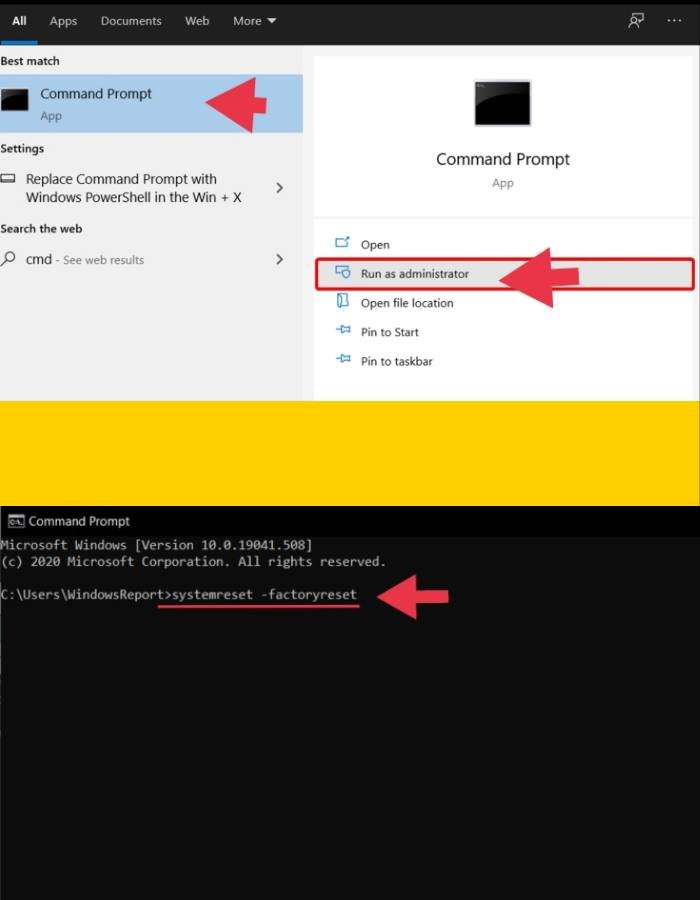 This option is only used to activate the traditional Windows 11 reset dialog box from the command prompt. If everything is running properly on your operating system and restoring factory settings easily, make sure it helps.
Final Words
These are 2 quick ways to reset your Windows 11 PC using Settings and CMD. After the reset process is complete, you will get one of two possible results. If you choose to remove everything from your computer, you will see the setup experience for the first time, which means your computer is ready for anyone else to use. If you choose to keep the file, you will be taken to your account login screen and launched on your desktop.
Remember that choosing to perform a cloud download does not update your PC to the latest version. You can use other recovery methods like Media Creation Tool to install updates to the newer version. That will install the latest available version, but right now, that's still Windows 10. Once Windows 11 releases officially, the latest version will be available there. Good Luck!
---
Read also: