It is very simple to merge 2 PDF documents or move a single PDF page from one PDF document to another with a Mac. In this article, I will show you how to merge multiple pdf files on macOS Monterey and Big Sur using a built into Apple's free PDF reader "Preview".
Steps to Merge 2 PDF Files on Mac
Sometimes you have a 10-page pdf file and you want to add another 10-page pdf file as well. If you don't know how to do it, just follow the below steps:
To merge the pdf files, open the first pdf file. It should be opened by the Apple 'Preview' App.
Next, if you want to keep a copy of the original document unmodified, please select "Duplicate" from the File menu so that you can now process a new copy of the original document. Otherwise, the new pdf file will be added to the original pdf file.
Now, see if you can see the "thumbnail" of the PDF page on the left side of the window. If you cannot see the thumbnails, go to View Menu and select "Thumbnails" to display them.
Next, you need to find the second pdf file using the finder. The file can be on your desktop, or in a folder.
Now, drag the icon of the second pdf file onto the thumbnail of the first document. The place where you place it will be where you insert the document.
Save your new merged pdf document (File menu – save or Press Command -S).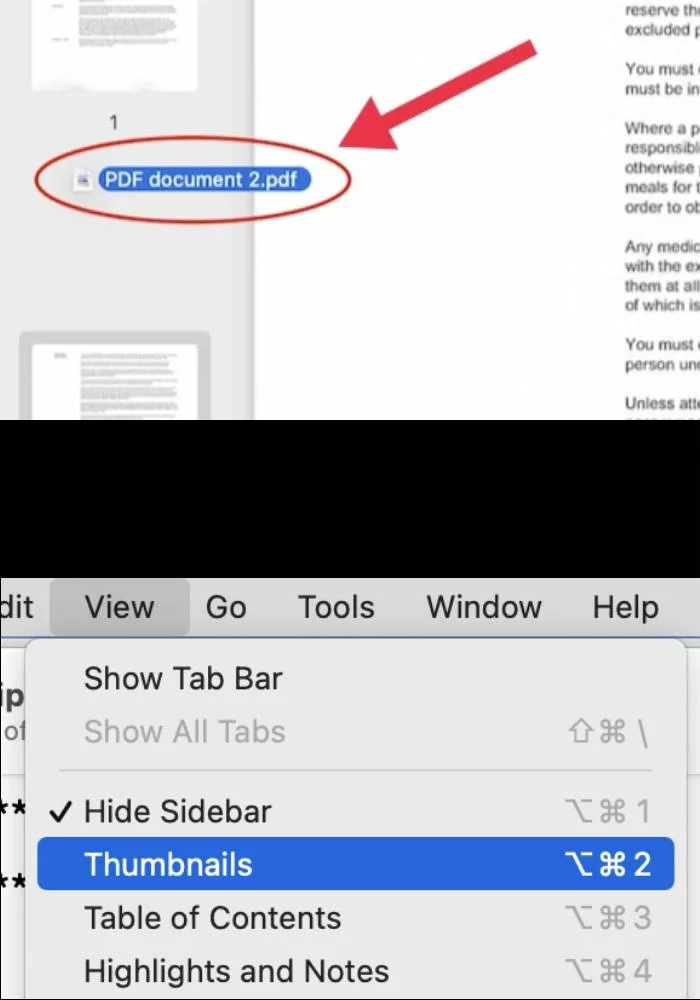 Note: If you put it after page 1, the complete pdf will be after page 1. (See the picture above). Here, I drag a new pdf file after page 1 of the first pdf file. The complete pdf file will be inserted.
Replace or Move Pages Between the PDF files
You can replace individual pages from one PDF document with another.
To do this, follow the steps above, but open both pdf documents so that you have both documents side by side, with the thumbnails in view.
Now you can drag the individual pages from the second pdf file into the first one.
Drag any number of pages from any number of PDF files to rearrange them, save the original file, and all additional pages will be included in the order you set them up. You can sort the page order of the original PDF file. To delete a page, simply select the page in the thumbnail view and click [Delete].
Final Words
That's it. This is how you can merge multiple PDF files on macOS Monterey and Big Sur. And sometimes you may want to replace or move the pages of merged PDF files, again you can follow the above steps. Good Luck!
---
Read also: