You want to erase that flash drive and sell it to one of your friends. You have formatted the USB drive. Are you really ready to sell?
Unfortunately, the answer is NO!
But you need not worry, in this article, I'll share with you the best method to permanently erase your data from a flash drive using BitRaser File Eraser. But first, you need to have some basic information.
What happens when you format a USB flash drive?
When you format a USB flash drive, the Windows OS will not be able to access the data because it is not reading or looking at the information available on the drive. Since it is inaccessible, the deleted data remains on the drive and can be recovered using data recovery software.
Therefore, if you plan to sell or dispose of your storage drive, do not do so unless you permanently erase it. And to protect your data from data breaches, data theft, personal information theft, and many other issues, you need to permanently wipe your data.
What Is Data Wiping?
It refers to the process of deleting data beyond the scope of data deletion and recovery. Data on a specific drive is permanently overwritten so that the data cannot be read. USB flash drive means once wiped it will be safe from all threats of data theft.
Now that you are familiar with the concept of deleting data, you can use the BitRaser File Eraser tool to completely wipe your data from a flash drive.
BitRaser File Eraser
BitRaser File Eraser is a DIY (Do-it-Yourself) tool that comes with a clean, user-friendly GUI. This software helps you to permanently erase your data such as types such as photos, videos, audio files, documents, internet history, system tracking, etc. from Windows PCs and storage devices such as hard drives, SD cards.
This software is completely safe to download and use. It does not affect the system files and program files available on the C: drive. Since this software uses a powerful data deletion algorithm approved by the US Department of Defense standards, data deletion can be performed safely.
How to permanently erase your data from a Flash Drive with BitRaser File Eraser
Follow the given steps to learn how to completely wipe your data from a flash drive:
Download the BitRaser File Eraser software on your computer.
The software will ask you to permit the software to run.
The software's initial dashboard will appear on the screen.
Next, you can select to Erase Deleted Data. It will permanently erase your data from a flash drive deleted with the Shift + Del key or by emptying the recycle bin.
Select the drive and click 'Erase Now.'
If you want to erase some specific files and folders from your USB flash drive, navigate to 'Erase Files & Folders.'
You can tap on the + icon to add files and folders to the erasure list.
Also, you can tap on 'Search & Erase' to find and erase specific files from the flash drive.
Once you added the files and folders, tap on 'Erase Now.'
Additional Benefit: You can also use the 'Scheduler' feature. It will help you set a schedule to erase data. Once the scheduler is set, it will automatically run at the allocated time and day.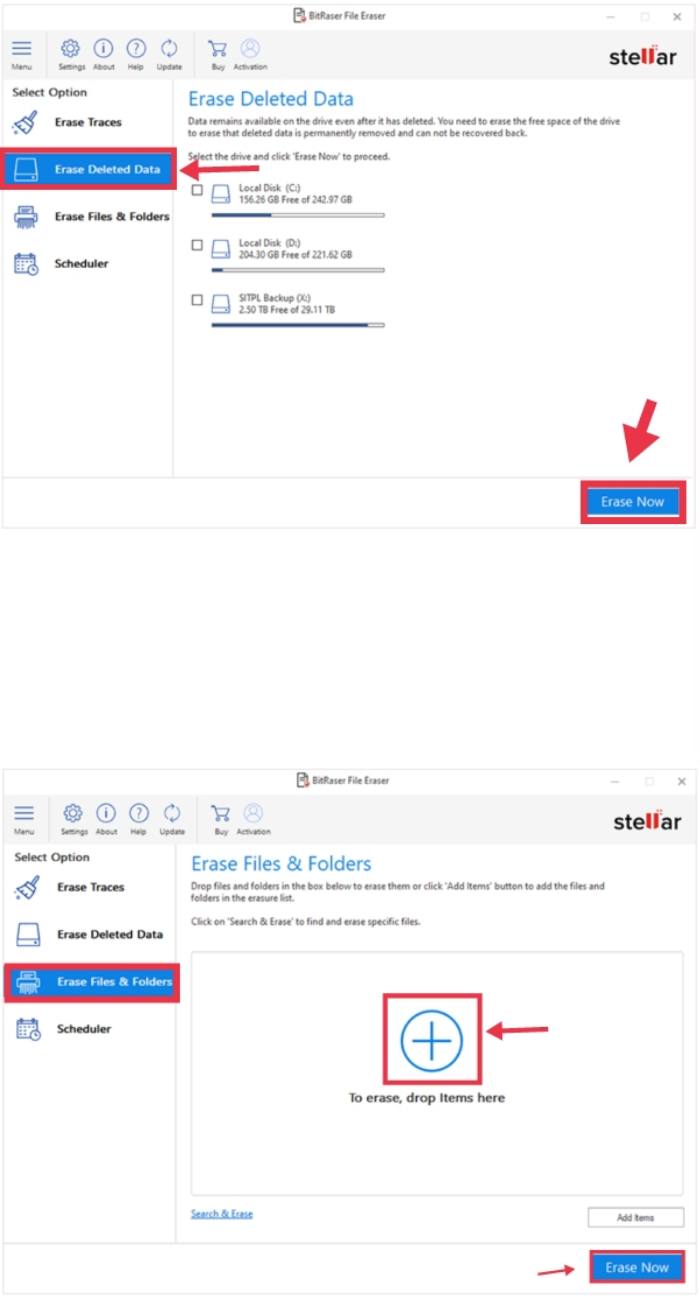 Conclusion
You can empty the Recycle Bin or use the Shift Del key on Windows systems to delete data from the USB flash drive. Formatting the drive also causes data loss. However, these methods make the data inaccessible rather than deleted. But you can follow the above mentioned steps to permanently erase your data from a flash drive using BitRaser File Eraser.
You can rest assured that you can protect your data from multiple threats such as data theft and data leakage.
---
Read more: